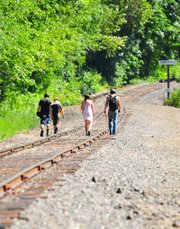 Jeff Pricher has resigned as fire chief for the City of Cascade Locks.
Pricher submitted his letter of resignation to interim City Administrator Rich Carson on Monday night, following the council meeting.
"They have left me in limbo since March in terms of my financial status with the city," Pricher said by telephone Tuesday.
Pricher's resignation is effective July 8. He was hired six years ago.
Carson was unavailable for comment; Mayor George Fischer declined to comment because he had not seen the letter, nor spoken with Carson about it. Pricher submitted the letter via email at 11 p.m. Monday.
Pricher and the council have been at odds in recent months over the need for budget cuts and what some council members have characterized as poor management of the department.
Numerous residents have spoken in support of Pricher at council meetings this spring.
"They've been treating me poorly; in addition to the way I've been treated, the personal attacks, and attacks on my management abilities and character are not representative of what I have done for this community and this county,"' Pricher said Tuesday.
In his letter, Pricher states, "I can't allow my position to continue to be a distraction for the volunteers and the community," Pricher said. "Regardless, I am still committed to this community 100 percent. This is where I have a home and where I have chosen to live.
"I will continue to support the fire department and the community by remaining as a volunteer in emergency services as an assistant chief. I will be more than happy to assist the city in transitioning to a new paid chief when that time comes, but I can no longer serve as the administrator."