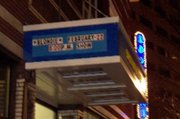 Welcome to installment two of my "Twelve Shows in Twelve Months" challenge.
Last month, I left you with a clue to what band I wanted to go see, which was "Think basic Geometry."
Squares? No. Circles? No.
So that leaves the most basic thing of all – Lines!
More specifically, Parallel Lines.
OK, for the younger crowd: I'm talking about Blondie's Parallel Lines.
The band is touring right now in celebration of that album's release, 30 years ago.
This was perhaps the most fun I've had at a show, ever. Debbie Harry and band rocked a solid hour at Roseland, and then did a 3 song encore. And if you're wondering what Ms. Harry looks like at age 63, just take a look at the Parallel Lines album cover. She looks like she just stepped off of that photo shoot.
This show was everything a rock and roll show should be. We were outside in a long line of people, waiting to get in. We missed the opening band, but we did hear a few minutes of them from outside (I'd classify them as "loud.") We had general admission on the floor, and it was already packed when we got in. We got within 30-40 feet from center stage, with a good view. I seemed to be surrounded by folks my age and even older, which was a good feeling. Some guy was talking about the Rolling Stones Steel Wheels tour. Yup, I know what you mean there.
The back wall of the stage was really cool, it was all vertical black and white solid lines (of course) with the word BLONDIE off-set in black and white lines. When the lighting hit it, the word kind of jumped out at you, kinda like those pictures that you stare at for a few minutes, and then the 3D image jumps out at you.
The lights dimmed several times in the next 15 minutes. Do you feel that in the air? That's tension, anticipation and excitement, all wrapped up in one. There's nothing like a packed room of people waiting for something to happen.
Now, here's the best part. All month long, I had it in my mind that this band should start their set with a particular song. Not only that, but the song should start in a particular way.
No long-drawn out speeches, no sound checks, no announcements about upcoming shows, and no other distractions.
The lights go out and the crowd goes berserk. All of a sudden, there's a band on stage. Ms. Harry walks out to the front of the stage to more applause and craziness.
She waves and then belts out: "I'm in the phone booth, it's the one across the hall……."
SWEEEEEEEEEEET!
2-22-09
Roseland theater
Blondie
Hanging on the Telephone
Will Anything Happen
Pretty Baby
Too Times Blue
The Hardest Part
Fade Away and Radiate
(I'm Always Touched) By your presence dear
I'm Gonna Love You Too
Whiteout – (from new solo album "Necessary Evil)?*
Dreaming
Maria
Call Me
The Tide is High
Rapture
One Way or Another
Encore
Liar Liar
Heart of Glass
Please Please Me (yes, the beatles tune)
*My notes say "I Want to See You" for this song, because I just wasn't familiar with it. After searching the web, I'm pretty sure this is the tune.