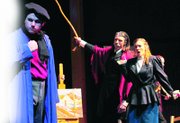 Have you seen Mark Twain's latest play?
"Is He Dead?" may have been written in the late 1890s, but it's new to most of us. It was never produced or even published in Twain's time, and was filed away with the rest of his work for 100 years before Twain scholar Dr. Shelley Fisher Fishkin resurrected it in 2001.
Six years later the play opened on Broadway, and it is now playing at a theater near you: Hood River Valley High School's Bowe Theater.
According to a story in The New York Times in December 2007, when the play hit Broadway, Fishkin had expected "another fizzle from the period generally seen by scholars as the grim denouement of Twain's brilliant life and career," but instead found herself laughing out loud.
"I hadn't had that much fun reading a manuscript in a long time," the Times quoted her as saying. "And I'd never been as surprised. It was a whole, finished play. He had even managed, and this was not necessarily his strong suit, a plot, with memorable characters and hilarious scenes. I thought it held great promise."
The bones of the story may belong to Twain, but much of the credit for its success is given to playwright David Ives, who did the adaptation.
HRVHS theater teacher and director Rachel Harry said that Ives is a favorite of hers and her students'.
"We just love his work," she said.
The plot centers on the real-life 19th century painter Jean-Francois Millet (played by David Rodriguez), who is in love with Marie Leroux (Sullivan MacKintosh) but in debt to a villainous art dealer, Bastien Andre (Connor McDermott). Andre threatens to send Millet to debtors' prison unless he either comes up with the money or Marie agrees to marry him.
Millet's friends, Chicago (Murphy Jackson) Dutchy (Duncan Krummel) and Phelim (Tenis Gonzaga) convince him that the only way to raise the money to pay off Andre is to fake his own death so that his paintings will suddenly be worth much more.
With no other options available, Millet goes along with the plan and disappears, only to re-emerge as his imaginary twin sister, the Widow Tillou. Not surprising, hilarity ensues.
"His three pals … perform in the style of the Marx Brothers and the Three Stooges and keep the audience in stitches," says Harry.
The play opens in the Bowe Theater Friday at 7 p.m. and will continue Saturday at 7 p.m. and Sunday at 2 p.m. There will also be performances at 7 p.m. March 4-5 and 11-12. Tickets are $7 adult, $5 student/senior.