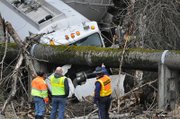 A semi-truck carrying nearly 10,000 gallons of diesel fuel crashed off the embankment of I-84 just before Exit 63 in Hood River Thursday afternoon, leaving the lane closed into the evening.
No fuel spilled from the truck, which came to rest at the bottom of an embankment on top of a sewer line.
The line was not damaged in the crash and the driver of the truck, Eric Christiansen of Vancouver, Wash suffered no injuries beyond a minor cut on a finger suffered as he exited the truck.
The truck momentarily came to a stop while hooked over the guardrail, but it soon began to slide.
"When the door handle worked, I didn't need an invitation," Christiansen said.
The Oregon State Police, ODOT, Hood River police, Hood River fire, Hood River County Sherrif and Hood River Public Works all responded to the site of the accident, while Oregon Department of Environmental Quality had been notified to monitor the diesel fuel in the truck.
Senior Trooper Dan DeHaven of the OSP said the right lane was expected to remain closed into the evening until another tanker and pumper could arrive to offload the fuel from the truck before it could be pulled up from the embankment.
For more on the crash, see the Wednesday edition of the Hood River News.