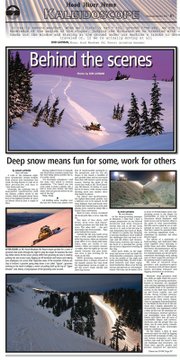 A rash of the infamous eight-hour "powder-flu" struck workers from several area businesses last week, forcing dozens to cash in on their precious-few sick days to "stay home and rest."
Ironically, the outbreak was in near-perfect synchronicity with the largest, coldest storm of the winter, which dropped about three feet of the lightest powder in years on Mount Hood in just a couple of days.
Having suffered from it himself, one Hood River resident noted that the best thing about powder flu is, it's easily cured.
"It's extremely contagious," said the man, who asked to remain unanimous. "I've heard you can even catch it from a phone call. I had it twice this winter, but both times I felt 110-percent better by the end of the day."
Wink. Wink.
•
All kidding aside, weather over the last few weeks has added a few feet of much-needed snowpack to the mountain; and for the ski slopes it has meant a handful of epic powder days and an increased base that will ensure a good spring season. During the peak of the storm last week at Mt. Hood Meadows Ski Resort, 24 inches of snow fell in 24 hours, with strong winds blowing snow into stashes twice that depth in places.
For skiers and snowboarders, the lighter-than-usual powder was a delicacy not to be missed. In lift lines helmets, hats and hoods were stuffed full; bearded men with pink cheeks were coated in white like a Santa Claus convention.
Back in town, stories circulated the local pubs like a virus. Like the flu.
But tales of face shots, cliff drops, deep trees and butter-smooth groomers are only half the story. The other half - the part that makes the first possible - happens behind the scenes.
Getting the ski area ready seven days a week, especially during and after big storms, takes an extensive team effort. It is a chain with many links; some are visible to customers; others are largely unseen. At night, after the lights go out and almost everyone else goes home, one crew is just arriving for its work on the hill.
MHM grooming manager Rob Gayman gives a unique account of the largely unseen but vital work his department carries at night, to get the resort ready during and after big storms.
By ROB GAYMAN
Mt. Hood Meadows
As the slope-grooming manager at Meadows, I find that I have a unique perspective on our beloved mountain and what frequent storms that roll in off the ocean can do to it, and to the ski area itself. Sometimes the touch of Mother Nature is a gentle one; bringing a welcome dusting of snow without the challenges that can lead to terrain and lift delays and closures. Other times, however, she comes in the form of a clenched fist, giving the ski area a figurative bruising in the ring.
Piled snow drifts on the highways and access road can make for white-knuckle commutes, especially for the middle of the night and early morning folks. Frozen locks, dead batteries and other equipment headaches often occur during storms and periods of cold temperatures. Ski runs can be under a foot or more of freshly fallen snow, complicating access to the slopes via snowmobile, or even by snowcat. Structures which Meadows' staff must access can be buried, often to the point of total inaccessibility. Ski lifts can be caked in ice or submerged in snow to such a degree that they cannot be operated without receiving significant work - sometimes by machine, but often first by hand.
The efforts of a multitude of hard-working and dedicated folks come together every morning to tackle these and other challenges. Ski Patrol, lift maintenance, lift operations, park crew and parking lot/transportation are all out there, sometimes shockingly early, taking care of their respective portions of the getting-ready-to-open puzzle.
My team of talented slope groomers and machinery-operators interacts with all these departments, providing transport and digging assistance as necessary.
•
Meadows' slope groomers work two shifts at night while the resort is closed. Our grooming machines, known as snowcats, are equipped with external lighting and features that enable them to be operated in storms in the dark that would ice up and freeze regular cars and trucks. Being tracked vehicles, snowcats are able to climb and descend quite steep snowy slopes. They're equipped with hydraulically run blades in the front of the machine and a highly adjustable hydrostatically run implement called a tiller in the rear. By utilizing various techniques, snowcat operators can manipulate snow with their blades and tillers into all sorts of remarkable shapes and surfaces. Snowcats, and the people who run them, can do some pretty remarkable things in some downright hideous conditions.
On the slopes, a fleet of nine snowcats starts its shift by digging out all 20 lift terminals (10 lifts, top and bottom terminals), our three surface tows and the resort's various buildings and structures. All these have specific grades and pitches required for operation which need to be maintained even when it's snowing. This process of bulldozing out massive amounts of snow and then spreading and blending it in across the ski slopes often takes hours by itself.
When it's snowing extremely hard, say an inch or more per hour, it isn't unheard of to find these lifts and areas needing to be re-dug not long after we finished digging them in the first place.
Casual visitors to Meadows may find it surprising how even seemingly inconsequential or "fringe" areas (like our Doggie Park, for example) can take a surprising amount of cat time to re-establish and maintain, which we do daily.
During the 4 o'clock hour, other departments begin to arrive and contact us for updates on snow conditions, weather and access issues. It's about this time that we pass this information onto the snowphone reporters so they can begin to disseminate it to those thinking of coming up to ski and ride.
Ski Patrol begins their evaluation of the night's snowfall and finalizes their hazard-reduction needs for the morning and lift maintenance arrives and heads out to get a look at the lifts since the day before.
We put down as much groomed corduroy as we can on the slopes. During storms, the weather can cover up or obliterate our groom almost as fast as we can put it down. To maximize our effectiveness, we group together as many snowcats as are available and do what we refer to pack-grooming. At 14 feet wide, a single snowcat must make multiple groomed passes on a specific slope, widening each subsequent time off its previous pass to eventually produce a run wide enough for guests to make turns on. Depending on the number of cats in the pack, this style of grooming can produce a ski run's worth of corduroy in a single loop around a section of the resort. With a focus on the arterial ski runs and beginner areas, this pack of cats will try to cover as much ground as they are able to pack down the freshly accumulated snow.
Visibility during storms, as anyone that has gone skiing during these periods can attest to, can be difficult. Though ensconced behind glass in heated cabs, we face just as much difficulty with seeing and finding our way as folks out skiing or riding during these conditions do. To help us navigate when the visibility is poor, we rely on our hundreds or thousands of hours of driving the slopes to spot known landmarks like trees, rocks, lift towers and light poles. In really severe weather, when we literally can't tell ground from sky, we run by "feel"; relying on our intimate knowledge of the angles of the slopes, judging the distance we've traveled with our machines by sticking our heads out the window and staring at the ground under our machine's tracks to determine the distance we've traveled or, if we're actually moving at all.
Thankfully, weather events of this severity are fairly uncommon. For the vast majority of storms, we're routinely able to access all sections of the ski resort and do what needs to be done in line with our normal grooming program, with only occasional forays to assist other departments.
The daily goal of my crew and myself, regardless of the weather, is to provide timely access for Meadows staff and as much groomed terrain as we can for our guests.
I hope the next time you choose to come to Meadows during a snow storm and you are able to pull into the parking lot without trouble, load a punctually opened chairlift and ski or ride down a corduroy-covered ski run, you take a moment to appreciate those who worked very hard to provide that.