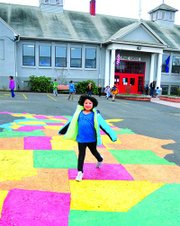 Every school got something new, and now every school gets something taken away.
Over the past two years, every school facility in the Hood River County School District received an upgrade in construction bond-supported projects: classrooms, a performing arts center, a science wing, kitchen and restroom improvements, new windows and heating systems, and others.
Now, every school in the district faces a cutback - some impact from the pending budget reductions totaling $1.5 million for the 2011-12 school year.
None of the changes will be felt more seriously than Pine Grove and Cascade Locks, assuming enactment in June of proposals now before the school board and budget committee.
The overall use of Pine Grove would change from a K-5 school to a facility serving early childhood and special needs students.
(See adjoining story for a look at the impact on Cascade Locks School.)
"Any change process is difficult," said Pine Grove's principal, Kelly Beard.
"We're proceeding with transition plans for families of Pine Grove students and the move to Mid Valley, and for parents of Cascade Locks students for the move to Hood River Middle School," superintendent Charlie Beck said.
Beard and Mid Valley Elementary Principal Dennis McCauley are working on the transition plan, which includes forming teacher and parent transition teams. They have scheduled a March 31 meeting with the staff team, to be followed that night by a meeting with PTO, site council and local committee parents.
Beck said Thursday that the long-range situations at Pine Grove and Cascade Locks "are not settled," because the next school budget has not been formally ratified. The precise uses of Pine Grove next year have not been set, though the district has identified it as possible site for early intervention programs now housed at Frankton School (which would be sold), a virtual academy and Community Education.
"I have been impressed by the students, parents, staff, countless times; and just hearing this news that these students are going to be asked to change to a new school is hard and it's sad," Beard said. "But I am once again impressed by that overwhelming sense of community spirit that is Pine Grove.
"It is a multi-generational school. There are people still in Pine Grove who remember when it was 1-6 and 1-12; they graduated from high school in Pine Grove.
"This is an amazing group of people; It's hard," Beard said. "But the community of Pine Grove has gone through change at this school before, a number of times over 100 years."
For parents of kindergartners in the Pine Grove boundary, the notification is already out in the annual Kindergarten Roundup: students can be enrolled at either Pine Grove or Mid Valley. It is the Odell school that those 5- and 6-year-olds are most likely to be attending.