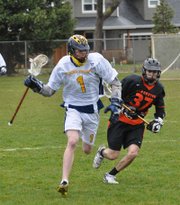 The Hood River Valley boys lacrosse team was on the verge of erasing the memories from a tough loss to Beaverton to open the season as it scored goals in bunches during the first half of its Friday home opener against Beaverton.
Then in the third quarter, everything fell apart in 15-14 loss.
Beaverton took advantage of several HRV turnovers and used a streak of five unanswered goals to take the lead.
Beaverton led 14-11 before the Eagles began to rally back, and eventually tied the game back up when Jesse Keopaseuth fired a shot between three defenders late in the fourth.
The Eagles had a chance to get the lead on their next possession, but turned it over after failing to find a good shot.
Beaverton then went straight down to the other end and scored with under a minute left to get the win.
The Eagles lost 8-6 to Southridge in their season opener, while the HRV girls beat Tigard 18-8.