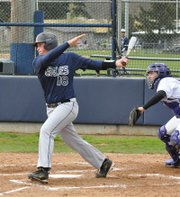 One explosion of runs later, the Hood River Valley baseball team is back in business.
The Eagles scored seven runs in the fourth inning Tuesday to beat Hermiston 10-5 and keep its hopes of a second-place finish in league alive heading into a crucial weekend double header with the Bulldogs.
Hermiston had tied the game at 3-3 in the top of the fourth on a HRV error behind pitcher Lucio Alaniz, who struggled with his command early.
In the bottom of the fourth though, the Eagles offense came alive to help out its pitcher.
After Nick Weekly struck out to lead off the inning, the Eagles reached base 10 consecutive times.
David Gibson, Lucio Alaniz, Kyle Beam, Eric McNerney and Weekly all drove in runs in the ensuing HRV pummeling of Hermiston pitching.
The Hermiston fielding also broke down as the Bulldogs committed several errors in the inning.
After the HRV outburst, Alaniz settled down to keep the Bulldogs from having a chance to get back in it.
"Lucio had a great pitching performance only giving up six hits," HRV coach Erich Harjo said.
He allowed a run in the fifth on a double, but did not allow a hit in the sixth or seventh while striking out three in the final two frames.
"Before our game we had two great practices and we did everything with a lot of purpose," Harjo said.
Parker Sherrell led the Eagles at the plate going two for three with two RBI, McNerney went 2-for-4 with an RBI and Weekly was 1-for-4 with two RBI.
"Almost everybody had a hit," Harjo said. "That's a good sign for our lineup."
Sherrell was glad to see the Eagles get untracked at the plate, and hopes they can carry it over into the weekend.
"We just wanted to win," he said. "It was rough getting swept."
The Eagles are now 1-3 in league play, and in third place. Pendleton is 4-0, Hermiston is 3-1, and The Dalles-Wahtonka is 0-4.
A split against Hermiston over the weekend with a shot to take the series Tuesday or a sweep on Saturday would put the Eagles in prime position to make a run for second place heading into their final series against The Dalles-Wahtonka.
"Winning both would be great," Sherrell said. "As long as we put the ball in play we can beat this team."