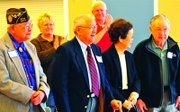 New issues and old business that Sen. Ron Wyden called "long overdue" dominated a town hall meeting in Hood River on Monday.
Three Japanese-American World War II veterans from Hood River were honored for their service to their country in the gathering, attended by about 75 citizens from the Gorge and the Portland area.
Wyden thanked Shig Imai, Mark Namba and Taylor Tomita and presented them with American flags. Tom Sumoge of Hood River was unable to attend.
"Nothing can make me prouder than being able to stand with these men and express the appreciation of an entire nation," Wyden said.
(The Portland Democrat holds at least one town hall meeting annually in every county; he was in The Dalles earlier in the day, and toured Full Sail Brewery in Hood River Monday afternoon. Tuesday, he was guest speaker at The Gorge Angel Conference in The Dalles.)
Last year, Congress passed Public Law 111-254 granting the Congressional Gold Medal to the 100th Military Battalion, the 442nd Regimental Combat Team and members of the Military Intelligence Service for their dedicated service in World War II.
For over an hour after the brief ceremony for the veterans, Wyden fielded questions from the community on issues including the federal budget, tax reform, immigration, and Department of Defense spending.
Wyden pledged to pursue legislation enforcing regulations against petroleum speculation, and called for expanded extraction of millable forest materials, calling Oregon "the Saudi Arabia of biomass."
On immigration, he said the federal government should beef up enforcement of existing laws, and he advocated amnesty for illegal aliens who pay a fine and can prove they have violated no laws.
Wyden said protecting the environment is a proven method of stimulating job growth, particularly in recreation-based areas such as the Gorge.
On the budget, he argued for reducing the deficit by growing the economy in addition to making cuts; Wyden said "everything is on the table," including defense spending, and agreed with one citizen's statement that the Department of Defense budget must legally be made to show the full cost of war.
But the first order of business was honoring the veterans of a past conflict.
Taylor Tomita served in the Italy with the 442nd, Mark Namba was in Military Intelligence in Japan and Korea from 1944-60, and Imai used his Japanese language in service with the 162nd Prisoner of War Processing Center in Honolulu in 1944-45.
Each was grateful, but modest, about the honor.
"It was a real honor. We appreciated that we received it," Namba said. He served in Military Intelligence with Gen. Douglas MacArthur in Tokyo, interviewing Japanese prisoners of war who had been in Russia.
"I'm honored to get it," said Tomita. Of the interment of Japanese-Americans, he said, "I didn't think it was right but it was something we had to go through."
"It's nice to be honored," said Imai, who was drafted on Jan. 4, 1942, before the federal government ordered Japanese-Americans interned. "We felt sad that things went the way they did, but it is a nice thing to be accepted."
"We can't escape the irony of what happened to the men and to many others in those early days of World War II," Wyden said. "At a time when they faced harsh discrimination, at a time when the United States government rounded up their families and sent them to concentration camps, these men fought bravely and valiantly for the United States."
"To put your life on the line for your country while your country is holding your friends and family captive is a remarkable example of dedication and patriotism," Wyden said.
He noted that the Congressional Gold Medal is "the highest civilian honor our nation can bestow.
"It is a fitting tribute to these outstanding men not just for their service during war time, but for their contributions to changing American culture and ending discrimination against Japanese-Americans."
Namba was accompanied by his wife, Lily. Also on hand were Setsy Larouche of the Oregon Nisei Veterans and her husband, Chip Larouche of the Japanese Americans Citizens League.