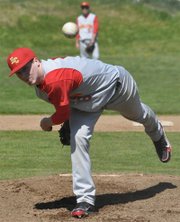 The first Pilot Rock player trotted down to first base, hit on the arm by the first pitch of the first home game in Hood River for the Horizon Christian baseball team in five years.
That was the last thing that went wrong for the Hawks in their home debut Saturday.
Sam Anthony hit lead-off home runs in both games; the Hawks scored 10 runs in the first inning of game one of a doubleheader and crushed the Rockets 25-8, 20-3 with both games shortened by the mercy rule.
After being swamped after weeks of rain, the Hawks home at Collins Field was finally ready to go, and their hitters took full advantage of the short fences in right and left field by hitting home run after home run.
Anthony's first lead-off shot wound up dropping in the midst of the Hood River Valley and Bend tennis teams in the middle of the match on the tennis courts next to the field, as did Jeff Wilkens' grand slam in the second game.
"I usually swing at the first pitch and it worked out well today," Anthony said afterword.
Anthony also contributed a bases-loaded double in the first game and wound up being intentionally walked his last several trips to the plate in the second.
"I think we had seven individual guys who had home runs," Horizon coach Jim Brown said. "We've never seen anything like that before."
The Hawks had eight home runs total and never gave Pilot Rock a chance to get in either game.
In addition to Anthony and Wilkens, Cody Bott, Tanner Pettit, Micah Ingel and Jordan Anderson all went yard for the Hawks.
Brown recently moved Anthony into the leadoff spot in the lineup while also giving him a break in catching duties to save his back.
"He's like having Rickey Henderson up there," Brown said of Anthony's speed and power.
The Hawks are currently fourth in their league at 6-4 after the sweep of Pilot Rock and a 10-5 win over Sherman earlier in the week.
They now play four straight non-league games against Lyle, including a home doubleheader April 30 before hosting Dufur May 3.