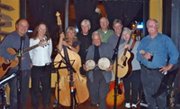 Firefall in Stevenson Nov. 12
The band Firefall comes to the Skamania County Fairgrounds Exhibit Hall in Stevenson, Wash., on Saturday, Nov. 12, at 8 p.m. Band members Jock Bartley, Sandy Ficca, Bill Hopkins and Steven Weinmeister have been playing together in Firefall for over fifteen years. Chris Ball joined the band in 2002. In concert they can play over an hour of hits and radio recognizable tunes. The Firefall classic, "You Are The Woman," was recently featured on the Fox Network's "That 70s Show." Tickets are available at www.skamaniaarts.org.
John Nilsen at The Pines
At the Pines in Hood River this week: Thursday — Kerry Williams from 6:30-9:30 p.m. Friday — John Nilsen from 6:30-9:30 p.m. Pianist, guitarist, songwriter and recording artist John Nilsen is one of the most successful recording artists in the Northwest. Nilsen performs his original instrumental pieces of jazz, classical, folk and rock.
Jamba Marimba open practice
If you've been to summer events in the area, you've probably heard Jamba Marimba, an African marimba band in the Gorge. Jamba plays music from Zimbabwe, as well as from the Caribbean and other parts of the world, with seven marimbas ranging from sopranos to bass. The current players hail from White Salmon, Mill A, Hood River and Parkdale and practice weekly in Hood River at 7 p.m. There will be an open practice on Wednesday, Nov. 9, for anyone interested in playing this infectious and joyous music. Visit Jamba's website at www.jambamarimba.com or call Lorrie at 509-637-2737 for more information.
'Stranglers' at Naked Winery
This week at Naked Winery in Hood River: Saturday, 7-10 p.m. — Johnson Creek Stranglers —Johnny Outlaw and Jerry Ransom have played music professionally for 40 years combined. When the two front men met in early 2011 they knew they had something great going on! Johnny Outlaw, a self proclaimed Northern hillbilly, has a Johnny Cash/Keith Whitley sounding vocal; while Jerry Ransom, a southern-states raised hillbilly, has a Hank Sr/Kurt Cobain sounding voice. With Jerry on lead guitar and Johnny on rythm, they create some totally original sounding outlaw country music. Sunday 5-7 p.m. — Swing Crew - danceable swing. Monday 7-10 p.m. Open mic night. Tuesday 6:30-8:30 p.m. Live jazz with Mike Stillman.