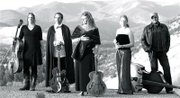 Jim Drake's Entertainment Blog
'Stellarondo' — file under ?
I know, I know, first blog in many moons. Here's an interview with Caroline Keys of Stellarondo to ease me back into the groove. I promise, as soon as I recover from trying to park at the 2011 Hops Fest, I'll write more. — Jim Drake
1. Thanks for putting Hood River on your schedule. I've listened to your songs online, and I must admit, I can't seem to put a classification on your music. So what exactly are we listening to here?
You're welcome! We've beaten the path between Missoula and Portland a few times, but have never stopped in Hood River. We are excited to make a night of it. We're not sure exactly how to classify our music either. Stellarondo has been described as "astral art folk," "high-lonesome meets subterranean post-apocalyptica," and "the sound of the new western frontier." Not sure exactly what to say? We might sound like what would happen if Karen Dalton and Sufjan Stevens had a little girl and she went on to make a Pink Floyd album. With kalimba and banjo. Is that helpful? I hope I don't regret saying that.....
2. Interesting band name, "Stellarondo." Where did it come from?
Stella Rondo is a character from Eudora Welty's short story "Why I Live at the P.O."
3. I noticed one of your band members has got an archtop tenor guitar. They're a bit rare: What makes this instrument fit into your music scheme?
Yes, that is a Kay tenor archtop guitar built in the 1930s. My husband bought it years ago, and until I was showing a video of Kelly Hogan & Neko Case to some harmony singing students, it collected dust. When I saw that Neko Case plays one, I decided to give ours a spin — at the time I was playing lots of old-time stringband music and I cross-tuned it like a fiddle to open A. It stayed in open A for Stellarondo. What makes it fit? Actually, I'd say that Stellarondo is a culture of "yes." We'll try anything. Well, almost...
4. Your press release said that you guys created a "noise jam" for some (students?). What was the purpose of that and how did it turn out?
Although they've taken place in school gymnasiums, no students were (harmed) or present during our noise jams. The first one was spontaneous in central Montana this spring — we'd let ourselves in to the Hobson School to retrieve some gear, ended up picking up our instruments, started improvising, and eventually ended up in a place where there was tons of feedback and screaming. We're a relatively new band and there's a lot of restraint in what we'd perform, so it felt good to explore a more fierce territory together that night. We got so much out of that experience that when we returned home we booked a gym in Missoula, Gibson set up his analog gear, and we recorded a few hours of improvisation to tape. Not sure what we'll do with it? We'd like to mine it for seeds of new songs, and for ideas for our "story scoring" project — we've been working with writer Rick Bass scoring some of his short fiction.
5. Someone in the band must know someone who lives in the Gorge — how did the Trillium Cafe end up on the tour schedule?
Nope! Another Montana band recommended Trillium to us, said they had a good experience there. I did work in Steamboat Springs, Colo., with a fella named Glen Sloop who used to spend summers windsurfing the Gorge. Glen, you still around?
6. Please tell us how the audiences usually respond to your music sets: Is this a sit-down and listen type show or should we bring the dancing shoes?
Stellarondo puts on a sit-down and listen show. For now.
7. What music does the band listen to for inspiration (whose on your iPod)?
Oh boy! We'd all answer differently, but certainly overlap in spots. In the van we listen to 1970s Steve Martin stand-up. And more than one time the vehicle has erupted in a Drunken Prayer singalong, sans radio. On my iPod there's quite a bit from the Dust to Digital label, also Tuatara, Caleb Klauder, George Brassens, Cooke Duet, A.A. Bondy, The Fugs, The Glands, Martha Scanlan, Hank Thompson, John Hartford, Louvin Brothers, Karen Dalton, Michael Hurley, The Wilders, and Yo La Tengo (who were in the audience at one of our first shows!), Vending Machine, The Red Hots....
Thanks you guys and have a good show!
Thank you Jim. Hope to see you there! Stellarondo will be at the Trillium Cafe in Hood River on Saturday, Oct. 8.