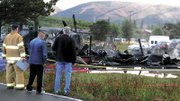 As dawn crept into the Valley around 4:30 a.m. on Tuesday, Oct. 11, flames poured into the shrinking night's sky from Ortigoza Auto Repair of 3365 Stadelman Drive in Odell.
"It was already 90 percent on the ground by the time our engines arrived," said Lt. Tiffany Peterson, volunteer with the Odell Fire Department. The building was a single story wood frame structure.
Engines and firefighters were on the scene at 4:44 a.m., just four minutes after the emergency dispatch call was initiated.
Odell Fire Chief Greg Borton led the offensive in taming the blaze with 30 volunteers from OFD's fire-fighting team as well as volunteers from Parkdale, Pine Grove, Hood River and Westside fire departments.
The auto shop's distinctive red barn style facility (formerly known as Los Hermanos Auto Shop), was rapidly engulfed in flames, causing at least three nearby neighbors to phone 9-1-1 and report sky high flames.
"Our engines could see the flames long before they got to the building," said Peterson.
Five fire engines, one booster and one medic all participated in the incident response. No injuries were reported.
Nothing from the business or building was salvaged. Lumps of steaming metal and molten plastic were all that remained after the flames were extinguished.
A total of seven vehicles, two four-wheelers, two motorcycles and a Hyster were demolished inside the structure. Several additional vehicles, parked outside, sustained heat damage.
Crews were still out "mopping up" and awaiting the arrival of the Oregon State Fire Marshall as of 8:30 a.m. on Tues., at which point the investigation phase was slated to begin.
The building owner, Craig Sheppard was on the scene at press time, awaiting details of the incident from Borton and the fire marshal.
Humberto Ortigoza, owner of the business arrived on the scene after the fire was contained. According to Peterson, there was some delay in contacting Ortigoza.
Borton was still on the scene at the time of this report and will provide additional details once the investigation is completed.
Peterson noted that OFD received assistance from Hood River Electric Coop, Northwest Natural Gas and Crystal Springs Water District in battling the fire.