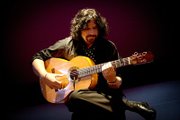 Jim Drake's Entertainment Blog
Emotional rescue? Flamenco show promises to break language barrier
This week I'd like to talk to you about our cat.
We've always enjoyed the energy cats bring to the house. And this summer, when we found ourselves in the unfortunate situation of being "cat-less," it just didn't seem the same.
Luckily, as we all know, cats wander around and then decide where they want to stay. Avoiding the hassle of real estate transactions, cats wander up the driveway, assess the property (Ooh look — two cars, hot tub, deck, nice view, birdfeeders — yep, this looks like a good one) and start meowing at you through the sliding glass door.
We couldn't resist his piercing blue eyes. His white fur was covered with stickers and he looked like he needed a rest. Within ten minutes he was sleeping on a towel we placed on the end of a futon.
• • •
Now, what in the world do cats have to do with flamenco music? Well, from what I learned in this interview with flamenco dancer, Savannah Fuentes, this week's performance is going to appeal to "anyone with emotions."
Even though you'll be hearing some singing in another language, seeing some dancing from another time and listening to music steeped in gypsy tradition, Ms. Fuentes knows that your emotions will tell you what the song is about.
You'll just know. Like when the cat meows and you know it wants food. Or maybe it's in trouble. You'll just know.
CANTE, TOQUE, BAILE
"3 Glorias, Flamenco en Vivo," will be performed at the Columbia Center for the Arts on Thursday, Oct. 27. A reception will be held at 7 p.m. and the performance starts at 7:30 p.m. Tickets are $20 in advance at www.brownpapertickets.com.
Interview with flamenco dancer Savannah Fuentes
1. Please tell us some of the history of flamenco dancing.
The history of Flamenco is mysterious and complex. It formed in the south of Spain where the Muslim culture had flourished for 800 years.
Flamenco is singing, though Americans usually identify it as a dance form. First came the singing or cante, then someone began to accompany the singing with the guitar and finally someone danced to music. Palmas, or flamenco hand clapping, also plays a major role in flamenco.
The flamenco rhythms are unique because they come in different timings: 3s, 6s, and 12s as well as 4/4. One can see the connection that flamenco dance has to Indian dances in the arm movements and percussive footwork.
There is record of Indian dancers coming to Spain to entertain royalty. You can also see the Moorish influence in some movements as well. Spain's location between North Africa and Europe provided the perfect environment for this art form to cultivate. Over 1,000 years ago, the "Gypsy" or Roma people left the Rajastan area of India because of the caste system which had placed them, the entertaining class, as the most undesireable caste.
They moved through North Africa into Spain and settled there. Flamenco formed with them and their experiences. They made flamenco what it is today and it is deeply rooted in their families and communities.They were persecuted and kept their culture and identity very separate. Both Saray Munoz and Pedro Cortes come from gypsy flamenco families.
2. This performance will be in a native Spanish language — will there be an opportunity to learn what the songs are about (any kind of translation before or after the song)?
Yes, the show is all in Spanish. There won't be any translations, but it is not necessary, anyone with emotions will understand the powerful emotions that drive flamenco. It is about feelings of joy and of loss.
3. For this tour you are being accompanied by flamenco guitarist Pedro Cortez, who has written several books on the flamenco guitar. How did this style of music start with the guitar and how has it evolved for today?
The flamenco guitar, like flamenco itself, is a mix of cultures. Here, the classical guitar meets the sitar. Flamenco guitar is unique in that the strings are nylon and soft, no pick is used. It's all finger techniques, very complex and intricate.
The guitarist has to accompany the singer's notes, tones and changes as well as the dancer's percussive footwork and remember the choreography. Flamenco guitar has incorporated jazz chords in modern times.
Pedro Cortes is an amazing player of the highest order. He is best guitarist I have ever worked with. He has a contemporary style with dynamic intricacies. The audience goes crazy when he plays his solos.
4. Your current tour is "3 Glorias, Flamenco in Vivo." How did you come up with the idea for this program and what would you like the audiences to learn about the flamenco culture?
Flamenco has three core components; singing or "cante," guitar or "toque," and dance or "baile." Each of them is an eternal study. Flamenco is a live interaction of these three elements.
The energy (these three) creates differs greatly from watching someone dance to recorded music. It is alive and the artists are communicating and working together. There is nothing else like it.
I named the show "3 Glorias" because these three elements are three glorious gifts of art to humanity and have the ability to bring out human emotion and make people feel.
The singing is most important part of the art form and Saray Munoz is the real deal. I decided to make a simple show with a world class singer and a world class guitarist and take it to our Northwest communities. The response so far has been amazing.
It is very important to me that people experience authentic flamenco singing because there are very few flamenco singers in the U.S.