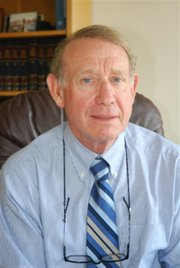 Hood River Circuit Judge Donald Hull has announced he will step down Dec. 31, 2011.
He was appointed as circuit court judge for District 7 by Gov. Barbara Roberts in 1990. District 7 includes Wasco, Hood River, Sherman, Gilliam and Wheeler counties. He also served as presiding judge of the district for some of that time.
Hull has presided over a broad spectrum of criminal cases, ranging from traffic citations to murder, as well as a wide range of civil cases, and engaged in various types of alternative dispute resolution.
He began his legal career as Hood River County District Attorney from 1971-74. In 1975, he joined the private practice of Hood River firm Annala, Carey, Hull & Van Koten. He handled criminal defense work for the firm, among other tasks.He served as president of the Mid-Columbia Bar Association and legal council to Hood River County, and engaged in labor negotiations for both Hood River County and the City of Hood River.
Hull said he has enjoyed working with the judicial staff and appreciates their dedication to serving the public. He also appreciates county citizens who have taken time from their busy lives to serve as jurors.Upon retirement, Hull plans to provide mediation and arbitration services in the private sector. He also intends to spend the early part of his retirement on a motorcycle, wherever the roads and cycle take him.
The vacated judicial position will be filled by an appointment by Gov. John Kitzhaber. The person appointed will be required to run in the Seventh Judicial District for the judge position in the 2012 general election.