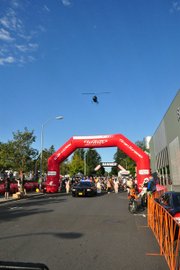 Around 400 of bike riders descended on downtown Hood River Saturday morning for the start of the Echelon Gran Fondo.
The ride was dedicated to raising funds for the Knight Cancer research center at OHSU and a host of local charities, including Friends of the Historic Columbia River Highway, where a large portion of the ride took place.
Three-time Tour de France rider Greg LeMond was on hand to help kick off the ride, which included a dirt trail portion this year. LeMond also participated in a biathlon style sport where riders had to hit targets on a shooting range.
Echelon Gran Fondo executive director Hunter Ziesing said he was pleased with the turnout and said the event grossed around $50,000 in donations and fund raising.
He also said that he hopes to have LeMond back next year and plans to expand the dirt track portion of the ride.
He said the Hood River ride was a "great way to cap of the year" and wants to continue to make the ride part of Hood River and possibly combine with other events. "All of the cities we go to we adopt the local culture," he said.