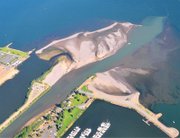 For almost five years now people have been drawn to the ever- expanding "Sandbar" — a new bit of real estate deposited, like a baby in a basket, on the front doorstep of Hood River.The Sandbar's visitors come for challenging windsurfing, kiteboarding, dog frolics and romantic early morning walks. But the moniker "Sandbar" just has never seemed to capture, in title, the spirit of the place — that is, according to Hood River Mayor Arthur Babitz. Babitz, who is proposing finding a new name for the 60-acre delta-style landmass found just off the end of the Hood River where it empties into the Columbia, plans to remedy that.
"We can't make this a legal name; we don't have the power to do that; but we can still hold a contest and a ceremony," said Babitz, hoping the formal recognition by the city would "stick" even in lieu of a printed name on a map.
The timing of Babitz's proposal allows his vision to be in place before Nov. 7 — the five-year anniversary of the initial appearance of the sandbar following a massive flood.
Residents and visitors alike may submit names for consideration either in person at the Hood River News, or via the contest-dedicated email inbox at: contests@hoodrivernews.com, or through links on any Hood River News social media site.
Deadline for submission is Sunday, Oct. 9. Panel review and selections will occur Oct. 10 to Oct. 16. Public voting on top contenders will begin Oct. 17 and close Oct. 21. The winning name will be announced Oct. 24 at the Hood River city council meeting and on the News website.
A judging panel, including representatives from city council, Hood River County administration, the Port of Hood River, the Hood River News, the Chamber of Commerce, the Columbia Gorge Windsurfing Association and the Columbia Gorge Kiteboarding Association, will select three to five top contenders, which will then be posted for public electronic voting.
Watch for voting site links at www.hoodrivernews.com, and the HRN Facebook page, Twitter account and Constant Contact once name submissions are posted on Oct. 17.
The individual who submits the winning entry will receive a proclamation from the City of Hood River along with Hood River News coverage.