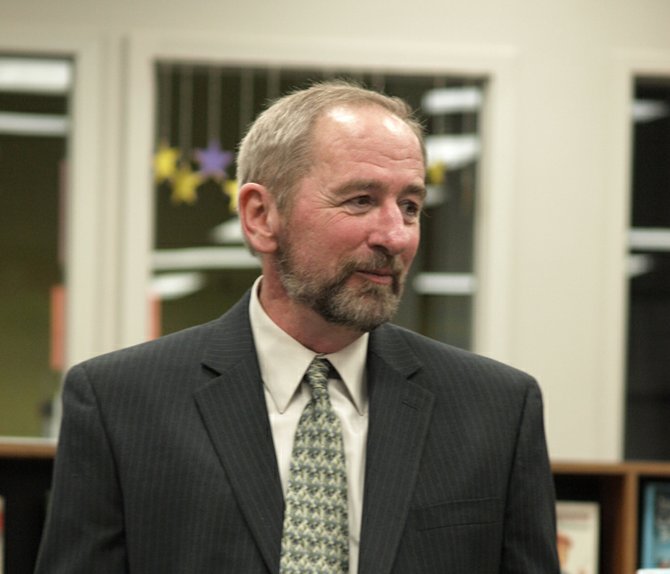 Hood River County School District will start looking for a new superintendent this school year.
Charlie Beck has asked the school board not to renew his contract, which ends June 30, 2013.
Beck said, "The district is in good shape and the time is right," to step down. He will serve the district through the current school year.
Beck plans to pursue other career opportunities, likely in the Portland area, where his wife, Chris, is a school administrator.
"It is with a great deal of regret that I herewith tender my resignation as superintendent, effective June 30, 2013," Beck stated in a letter he presented to the board. He informed board chairman Jan Veldhuisen Virk and the other board members before the meeting.
"Thank you for leadership over the last two years, and we understand your interest in pursuing your career goals," Virk told Beck.
"We are very appreciative of the contributions you have provided over the past two years," she said.
In a press release, the board stated, "As the board looks to the future, we are committed to hiring the very best leader for our district."
A Board work session will be set in September to establish a timeline and process for the hiring of a new superintendent. Virk said the process will be conducted in public and community input will be sought throughout.
Beck signed a three-year contract in 2010. He had served as superintendent of Bend-LaPine School District (9,000 students) before coming to Hood River, and he had served in the Springfield School District (13,000) before that.
He said two things fueled his decision to step down from his Hood River job.
"One is I have spent my career in large school districts and I'd like to go back," Beck said.
"The other is my family situation, with the commute. My wife is a school administrator in Portland, and after two years of driving back and forth, we are certainly interested in having a shorter commute for one or both of us," he said.
"It's that, and some career goals I've looked at over the last six months. I think it's time for me to look at a new and different challenge," Beck said.
"The district is in pretty good shape now," he said. "At this point in time we have a sustainable budget that does require a local option levy and some other things to be sustainable, but we are not deficit spending, we have decreased the footprint of the district so we can manage.
"I would not want to leave something I was not confident would be okay," Beck said. "We have an amazing educational community that I believe is poised to do just fine, so it's a kind of a roundabout way to say I think it's time to move on."
Beck added that, "We have a new curriculum director who is excellent, and our PLCs are off and running," he said, referring to Penny Bunting, hired in June, and the Professional Learning Community system established by Bunting's predecessor, Terri Vann.
In PLCs, teams of teachers within buildings and across schools team up to share instruction ideas and strategies, coordinating what students are learning within grades, and in preparation for subsequent schools.
When asked how he views his contributions to HRCSD Beck said, "I think probably the one that is most visible is the budget that we got to a sustainable level — which included closing Pine Grove, Dos Mundos Charter School, and pulling the middle school students from Cascade Locks and sending them to Hood River Middle School. And, that we were able to eliminate 38 teaching positions across the district.
"This was difficult, difficult work to do but I hope we did it about as well as it could be done."