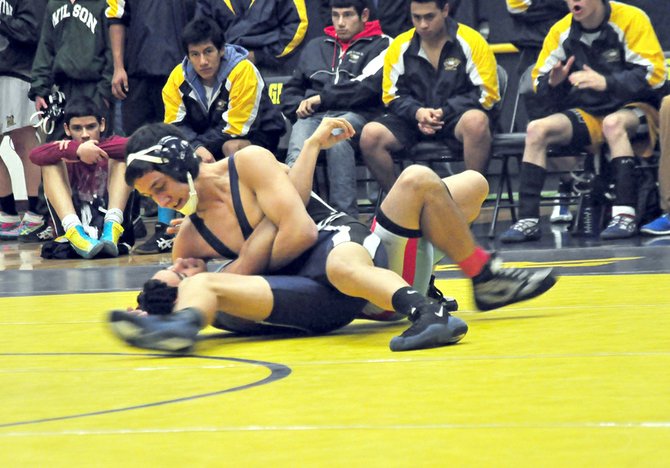 Hood River Valley High School wrestling steamrolled its opposition Friday night to score a pair of dual wins to open the season.
The Eagles crushed an undermanned Madison Senators squad 67-6 and easily defeated Wilson 45-22.
In the process of getting the two dominant wins, however, the Eagles lost one of their top grapplers for a few weeks.
After winning his first match of the night with a pin, heavyweight Brandon Dominguez was locked in a tight battle with Wilson's Brandon Flowers when he had his head slammed to the mat in the closing seconds of the first round.
Flowers got the pin, and Dominguez suffered a head injury which Eagle coach Trent Kroll said would keep the senior state qualifier on the sidelines for a few weeks.
Dominguez missed extended time last year after suffering an injury in a previous match against Flowers before returning in time to qualify for the state tournament.
Other than the injury to Dominguez, not much went wrong for the Eagles against the pair of PIL schools.
Juan Karlos Hernandez at 220 pounds and Christian Marquez at 126 pounds led the team with a pair of wins by pin, with Nick Morgan and Steven Swafford at 195 pounds and 170 pounds, respectively, also getting a pair of wins.
Hernandez was particularly dominant, winning both of his matches in the first round.
"Oh my goodness," said Kroll. "Juan Karlos is going to be tough."
Hernandez defeated Chris Wilcox of Madison in 1:15 in his first match of the night, and then did likewise to Ian Reho of Wilson in 1:56 in his second match.
Dominguez and Marquez tied for fastest pins of the night at 56 seconds, which Dominguez accomplished against Osman Manze of Madison and Marquez against Blake Hudson of Wilson.
"It was a great day," Kroll said of the overall performance for his team.
Collecting contested wins in HRV's rout of Wilson were Kyle Waserman (160) with a 15-3 major decision, Steven Swafford (170) with a pin at 4:14, Morgan, Hernandez Dominguez and Marquez.
Morgan's 10-6 win over JR Senghphet gave him a win over the No. 4-ranked wrestler in the state at 182 pounds. Morgan opened the season ranked No. 2. Winning for HRV against Wilson were Cristobel Castro (138) with a pin in 3:24, Swafford (170) with a 7-3 decision win, Morgan (195) with a pin in 3:14, Hernandez, Jason Flores (113) with a pin in 1:15 and Marquez with a 56-second pin.
The Eagles compete in a four-team dual match at HRV tonight beginning at 5 p.m.; the opposition will be Cleveland, Wilson for the second time in four days and then Columbia High School of White Salmon for the main event, which starts at approximately 7:30 p.m.