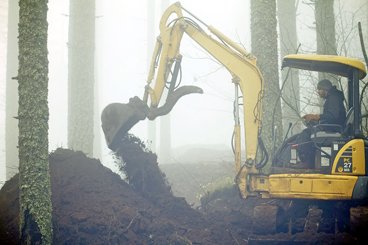 Gary Paasch is hard at work and covered in a healthy layer of dried mud.
Aside from a few crows, squirrels and other resident wildlife, the Hood River native and fanatic mountain biker is alone in the forest on this cold, misty Tuesday afternoon. With winter weather rapidly approaching, people have thinned out considerably over the last several weeks, leaving trails in the Post Canyon area to only the heartiest, or most desperate, locals who don't accept the notion of "off-season."
The soil is fully saturated but not yet frozen this time of year; it's a poor recipe for riding most trails, but perfect for building them.
"The smaller of the two lines is pretty much all laid out at this point," Paasch said this week about his new trail; the latest to be added to Hood River County Forestry's Northwest Area system. "There's a lot more hand work to get done; then we just wait and let the dirt settle over the winter."
Along with Paasch, a small army of volunteers, largely organized by Hood River Area Trail Stewards, has been doing a great deal of work in the Post Canyon area this year to restore recreational trails that were damaged during last January's ice storm and subsequent salvage logging operations. Several trails in the network only needed light rehab and were ready for action as soon as the dirt dried out this summer. Others were completely destroyed by falling debris and heavy machinery pulling trees out of the forest.
One such trail, called Grape Smuggler, was one of Paasch's former creations. The trail — if you can call it that — was an expert-only jump run that provided some of the most radical freeriding in the county's network of world-class trails.
"I must have put about five years into that trail, and now it's completely gone," he said. "There's literally nothing left after the equipment went through there. It sucks. But people who build up here understand that that is always a possibility."
Perhaps to heal the wound of losing his pet project, Paasch is focusing his time and energy on a new trail about a mile up Riordian Hill Road from the Family Man staging area. The trail will consist of two side-by-side runs (one more difficult than the other) with a series of about a dozen dirt jumps and gaps on each.
"I think this type of trail is really needed up here," Paasch said several weeks ago, during a walkthrough of the open hillside with HRCF staff. "There are beginner jumps in the Family Man area and a few advanced runs, but there's really not a lot for riders to progress between the two."
Prior to breaking ground on any new trail in the area, builders must work through an official process with HRCF staff. The process gives HRCF more control over what is happening on its property but is practical enough for riders and builders to negotiate with fairly little headache.

"As a landowner, we need to be aware and manage what is going on in our forest," HRCF Manager Doug Thiesies said while walking a flag line of Paasch's proposed trail. "What the county needs in order for this to work is the public's understanding that this is a tree farm that generates revenue for the General Fund. Managing that is our top priority. It's great to have people out here enjoying the land in a healthy way, but they need to know that trails are going to get disturbed or destroyed from time to time by logging operations."
n
In addition to Paasch's new trail, a wealth of work is in progress to repair and upgrade existing trails and create new ones. A local non-profit, Hood River Area Trail Stewarts (HRATS), is about a year old and has quickly become the best outlet for finding out what's happening and for helping with work projects throughout the area. For information, visit www.facebook.com/hrats or www.hrats.org.