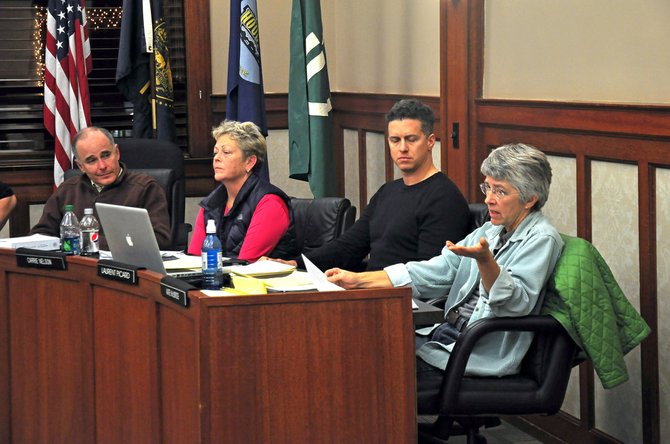 The deciding vote in what is likely to be a precedent-setting land use decision was cast by someone who didn't even expect to be voting when she walked into the city council chambers.
With Kate McBride's tie-breaking vote the Hood River City Council, by a 4-3 vote, denied Walmart's attempt to expand its Hood River store by 30,000 square feet.
And with that vote, another layer of controversy was added to a process that has already seen plenty.
The council was hearing a remand from the Oregon Land Use Board of Appeals on a 5-2 vote from last December that would have allowed the expansion.
LUBA requested the council to decide whether city municipal codes applied to Walmart's vested right to expand its current 72,000-square-foot store, and if so, how.
The latest vote is all but certain to be appealed by Walmart back to LUBA, and from there it will either be again sent back to the city or appealed to the Oregon Court of Appeals.
The council reached a unanimous agreement that the city municipal code's non-conforming use chapter could be applied to the expansion.
However, on the "how" portion, they got stuck.
McBride initially recused herself, both from the original planning commission vote to deny the expansion (when she was on the planning commission) and from the council's hearing on the LUBA remand, because she spoke in opposition to a proposed Walmart superstore several years ago.
On two separate votes Monday, one in favor of the Walmart expansion and one against it, the six sitting members of the council deadlocked at 3-3 with Jeff Nicol, Brian McNamara and Laurent Picard against allowing the expansion, and Mayor Arthur Babitz, Ed Weathers and Carrie Nelson in favor of allowing it.
That led to a recess with city attorney Dan Kearns conferencing with attorneys for Walmart and those opposed to the expansion.
The council was eventually presented with a pair of options: Stay deadlocked at 3-3, which by council rules would mean they could take no actions, and that by default, the original planning commission denial of the expansion would stand as the de facto city decision; or request that McBride sit on the council and vote through "rule of necessity."
After the meeting, Babitz said that he felt the council had the obligation to break the tie and not just allow the planning commission decision to stand.
"I have serious problems with the planning commission decision," he said. "I wouldn't be happy to see us pass along something which we know would have been sent back."
The council voted unanimously to request that McBride join the council.
The city council member had been sitting in the front row to watch the proceedings and said that she had not expected to be needed to vote when she came to city council.
"I did not think this would happen when I came here tonight," she said after the meeting.
The council asked McBride if she was willing to be seated and to vote, and she agreed to do so.
Walmart attorney Greg Hathaway immediately objected.
"I have a lot respect for Commissioner McBride and I'm sorry that you're in this position and I'm sorry I'm in this position," Hathaway said. "I like you and I don't mean any of this as disrespect but this whole case hinges on your vote now that you have decided to sit ... let's go back and take a look at why you chose to sit or not sit."
Hathaway said that as an "opponent advocate" against Walmart's previous attempt to develop a superstore on Country Club Road in Hood River, "the bottom line is, she is biased."
Hathaway said the testimony submitted by McBride during the remand process urging the council to apply the city's nonconforming use chapter (HRMC 17.05) to the decision, showed that she was biased.
However, McBride disagreed with his assertion.
"I wrote it because I'd been the planning commission chair and I had planning expertise ... which the rest of the council doesn't have. They are not used to reading these types of codes. I wanted to go back to the reason that this code was written ... and encourage them to go back and look at the code," she said.
She clarified that it wasn't her opinion, but a restating of what the city code says on the matter.
During the previous deadlocked votes on the matter, council members Jeff Nicol, Laurent Picard and Brian McNamara had also interpreted the city code as prohibiting the expansion.
The city non-conforming use code states that "A nonconforming use shall not be expanded or moved to occupy a different or greater area of land, building, or structures than the use occupied at the time it became nonconforming … If a nonconforming use is discontinued for any reason for more than twelve (12) consecutive months, any subsequent use shall conform to all of the regulations of the subject zone."
Nicol said the fact that the area designated as the expansion footprint in the original site plan had been used as a loading dock for the previous two decades showed to him that Walmart had discontinued attempts to expand the store.
"I think that their continued operation for the last two decades as a non-conforming loading dock use, with no 'traction' for expansion," said Nichols, indicated that Walmart had lost the right to expand. "They have still yet to make any move toward using it for future expansion. I believe it expired, at most, two years after the 1997 code change."
In 1997 Hood River adopted a non-conforming use code which stated that "nonconforming use structures" must be completed within two years of their permit being issued. The land on which the Walmart is situated was also rezoned in 1997 from commercial to light-industrial.
Two years later the city's non-conforming use code underwent a major overhaul, but Nicol noted that Walmart still made no attempt to begin its expansion.
Picard agreed with Nicol and felt that the language used in the LUBA remand stating that if the city had adopted legislation governing non-conforming use, the legislation should apply, meaning that the expansion should not be allowed.
"LUBA says if government has adopted non-conforming use legislation, that legislation will apply to non-conforming use," Picard said. "This expansion was discontinued because it was never begun; 20 years with no activity is evidence of discontinuance."
McNamara lined up with Picard and Nicol to vote in opposition to the expansion.
"I believe they had (a future vested right) but I have to agree with Jeff that two years after 1997 it expired," McNamara said.
On the other side of the vote, council president Ed Weathers said that Walmart's continued use of the current store allowed them to keep their right to expand covering the footprint the planning commission approved in 1991.
Mayor Arthur Babitz attempted to apply the current code through analogy, saying that that while loading docks may be the current use, the footprint would not be expanding any through the addition of the indoor retail space and that the un-built portion should be afforded the same consideration as a built out store.
Babitz said that if Walmart had built out the additional 30,000 square feet originally and then "had ceased to use it, I don't believe that we would interpret that as to saying that use was discontinued."
After it became apparent that neither block of three was going to convince a councilor on the other side to change their mind, they took a vote to request McBride return to the council.
McBride was left with the option to either sit on the council and vote, or refuse to vote and allow the council to either deliberate until someone switched their vote or to deadlock and allow the planning commission decision to stand.
She announced she would vote and that she felt should could make an unbiased decision.
After Hathaway's objections were noted, she joined the three members against allowing the expansion with the council receiving a round of applause from expansion opponents.
Before she chose to vote, both Babitz and Ed Weathers told McBride that she should not feel obligated to vote to get the council out of the "mess" it found itself in.
After the meeting, Babitz said he considered changing his vote to break the tie and make McBride's vote unnecessary but decided that "the appropriate thing to do was call it like I saw it … Saying I believed something different to clean up the vote would have been a mistake."
Walmart is now likely to challenge McBride's participation in an appeal to LUBA, but Babitz said he felt that LUBA would find their objections groundless.
"If he does a deposition on Kate or whatever he does to get information, he is going to find she has a well-reasoned argument and is not emotional about it," he said. "I don't think there is any problem with her involvement in this."