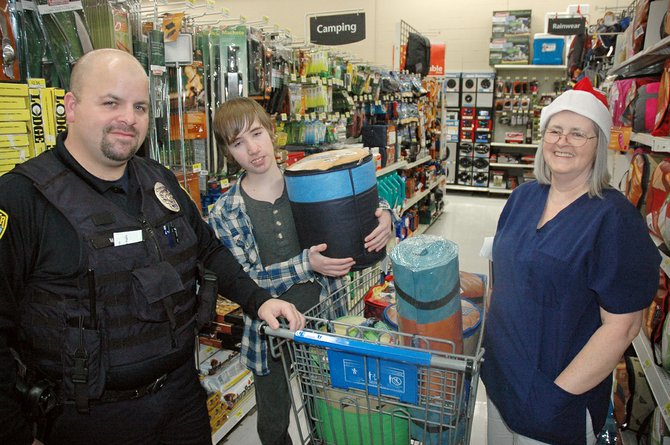 Six lucky kids got a police-escorted shopping trip on Sunday.
Three boys and three girls got to spend $100, accompanied by one of the men in blue from Hood River Police Department.
"Awesome," was about all that sixth-grader Anthony Gehrig could say.
The officers and kids gathered at 8 a.m. at Walmart, and given the hour there were plenty of jokes about cops and doughnuts.
But this occasion was about toys and clothes, even sleeping bags, rather than stereotypical donuts.
The event was the first "Shop with a Cop," with the officers, via a Walmart-General Mills grant. The kids were selected at their schools by teachers and counselors; General Mills' spokesman Dave Valli said Walmart earned the $600 for the grant by selling large quantities of General Mills products.
"We hope to make it even bigger next year," both Valli and Police Chief Neal Holste said.
"It's a good start, and we're excited to be able to be involved in it," Holste said. "It's a way for our guys to have some community contact, and for kids to get to know us just as people; spend a little time together."
The kids were each allotted $100 and could go throughout the store and pick whatever they wanted. They chose toys, clothes, video games — and a shopping cart full of sleeping bags.
That unusual purchase was made by Brandon Rhodes, an eighth-grader at Hood River Middle School, who shopped with longtime officer Erin Mason. Rhodes planned to donate the bags.
Anthony Gehrig, who studies at Wy'east Middle School, purchased some toys, a Ducks hat —"they're my favorite team" — and a sweatshirt with the logo of "Nuketown." (That's Nuke; not Nike, and it's from the Call of Duty video game.) Holste accompanied Anthony. "He's so excited he can hardly think straight," Holste said.
Anna Camus, a Cascade Locks sixth-grader, scoured the toy aisles for just the right games and trinkets for herself and her friends, with help from veteran officer Mike Martin.
Elian Sedano was looking for video games, perhaps an Xbox Live, with veteran officer Don Cheli.
Elian's mother, Rosalinda, said, "I think it's a good experience for them, to be around the cops. I know some people are afraid of the cops. The way I see them, they help people. If we do something wrong, they'll stop them."
"It's good for (the kids)," Rosalinda said. "Elian loves shopping and I don't have $100."
Also shopping were Alma Garcia, fifth-grader at May Street, with Berta Guzman and officer Isaac Smith, who's been with the department for two years, and Aiden Sewell, from Mid Valley, with officer Jake Ferrer, the newest member at one year on the force.
Asked why he loaded up on bedrolls instead of things for himself, Brandon said, "I don't need it; other people need it more than me."
Brandon will give the sleeping bags to the Hood River Warming Shelter, which opened last week. .
"I know there are homeless people and my dad told me there's no homeless shelter but there is the Warming Shelter, and I said, 'Okay, then they're for them,'" said Brandon, who has a rare form of multiple sclerosis, and had a brush with death in September, according to his dad, Bob Rhodes.
"It's a rare disease and he's a rare kid," said Rhodes, who stood back and let Brandon have his own time with Mason, who told Brandon, "That was a lot of fun shopping with you; good job. That was a really selfless act."
Brandon, who must use breathing apparatus for up to 18 hours a day, got sick and lost 30 pounds over the summer, and had to be hospitalized.
"It's been pretty hard. It was close, but he pulled through," Bob Rhodes said. "He hasn't been able to attend school yet this year but we think next week he can start."
Rhodes said Brandon should be using the respiratory aid for the shopping trip, but "he wanted to go ahead without it."
Brandon looked energetic as he picked out the sleeping bags. When he selected five and a floor pad it put him a few dollars over the $100, but Ogden told him the store would cover it.
Asked when he would pass along the sleeping bags to the warming shelter, Brandon said, "I don't know; my dad knows who to talk to so maybe he'll do it."
At that, his father said, "You're going to be with me, Brandon, because you're the one who did this."
It took a little time for some of the kids to make all their choices, but Brandon Rhodes found the sleeping bags right away and he and Mason and Walmart associate Theresa Ogden had plenty of time to get acquainted.