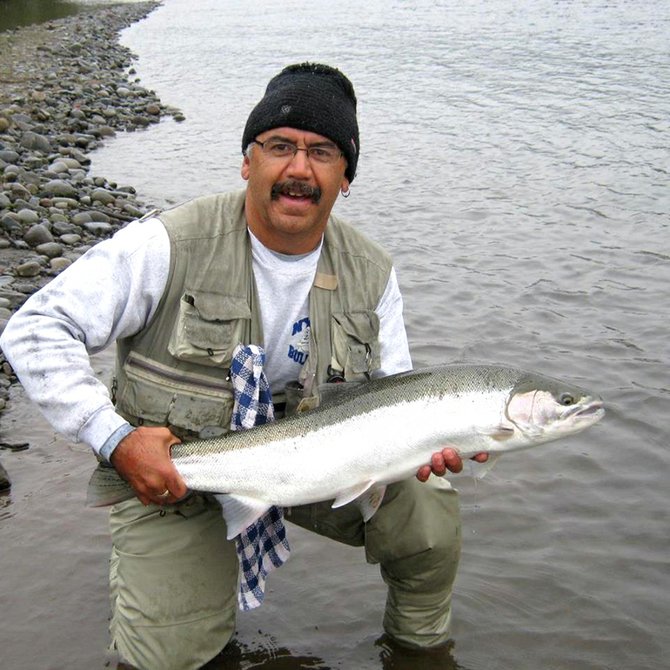 Buzz Ramsey's Outdoor News column this month covers winter steelhead fishing using a type of vibrating lure, called a plug, from the back of a boat. For local rivers, the tried-and-true technique of back trolling works particularly well on the Deschutes and the John Day. In the Hood River, however, a drift boat would get smashed to bits on the rocks long before any steelhead were brought in.
Winter steelhead fishing in the Hood is best approached from the shallows, with thick fleece underwear and a hearty set of chest waders.
"I love fishing the Hood," said avid Hood River fisherman and school teacher Ernie Delgado. "It's open all year and the fishing in the winter can be great. This time of year the quality of the fishing really depends on the condition of the water. I go as much as I can when the level and the color are right. If the river is chocolate milk it's no good. A little cloudy is okay because the fish spook easily so a little color can help."
Like any respectable angler, Delgado has been known to tell a fish tale or two at the local watering hole; but in the case of the brilliant white and silver 12-pound steelie he hooked under the foot bridge in the fall, he actually has the picture to prove it. Rules say catch-and-release for all native steelhead, so it was still the fish that got away.
"I tend to hook the majority of winter fish on eggs, bouncing along the bottom," Delgado said. "I caught a lot of fish this year. In the 20-plus years I've been fishing here this was probably the best year I've ever had for steelhead."
In addition to weather and water conditions, Delgado checks the Bonneville Dam fish count to see what kind and how many fish are moving up the Columbia. Steelhead run all winter but tend to surge in numbers as water conditions fluctuate. Fish counts from Dec. 6-11 show 53 steelhead passing through Bonneville dam; with only two on Dec. 7 but 22 on Dec. 10.
n
Delgado said some of the best steelhead holes in the Hood are no longer around because of the removal of Powerdale Dam a couple years ago.
"Below the dam used to be such a good spot," he said. "The fish would hold there before heading past the dam. Now that the dam is gone they just head straight up; they don't hang out like they used to."
The positive side of losing those few compact holes is that the river is now completely open for fish passage and open for fishing from the mouth all the way to Punchbowl Falls in Dee. In time fish (and anglers) will find other "money holes" to hang out at.