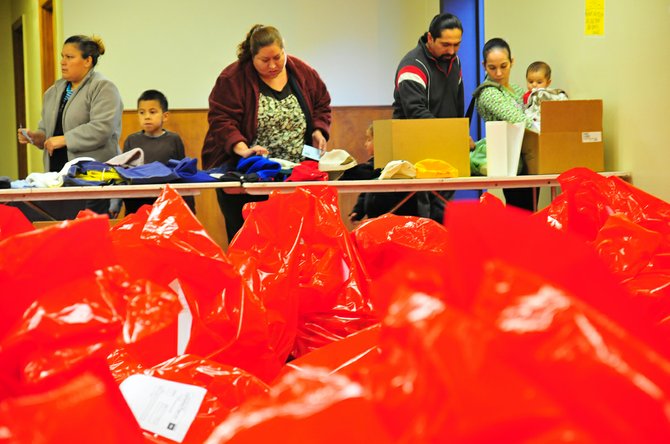 Share the Warmth coat and blanket drive
Through Dec. 19 — "Share the Warmth" coat and blanket drive: Now through Dec. 19, community members can bring blankets and new or gently used, laundered coats (for adults and children) to any of the following Windermere/Glenn Taylor Real Estate offices. Local nonprofit organizations will distribute donated items to those in need. Donation drop-off hours are:
n Hood River — 504 Cascade Ave., 541-386-3444, Monday through Saturday, 10 a.m. to 4 p.m.
n The Dalles — 207 W. Third St., 541-298-4451, Monday through Friday, 8:30 a.m. to 5:30 p.m., Saturday, 9 a.m. to 4 p.m.
n Bingen, Wash. (also collecting hats and gloves) — 900 W. Steuben, 509-493-4666, Monday through Saturday, 10 a.m. to 4 p.m.
n Stevenson, Wash. (also collecting hats and gloves) — 220 S.W. Second St., 509-427-2777, Monday through Saturday, 10 a.m. to 4 p.m.
Hood River Christmas Project
n Through Dec. 21 — Hood River County Christmas Project: Individuals may help in several important ways by:
n Contributing checks to the Christmas Project to help purchase food and gifts: Checks may be mailed to P.O. Box 872, Hood River, OR 97031. All donations are tax-deductible and letters will be mailed to donors.
n Donating non-perishable food items for the Christmas food boxes. See the list of locations for drop boxes below.
n Donating new toys and teen-appropriate items for the children's gift baskets.
n Volunteering to help pack or deliver items. Coordinated by Kym Zanmiller, the project needs between 200 and 300 volunteers; now, for registration, and particularly during the Dec. 15-21 packing and distribution period. For more information on how to get involved or sponsor a needy family, call Zanmiller at 541-399-6606 or visit www.hoodrivercounty-christmasproject.com for more information.
Hood River Care Center birdfeeder project
The Hood River Care Center Family Council is looking for donations of birdseed. Each resident has a birdfeeder outside of his or her room, with 10 of those made and donated by Webelos Scout Troop 282.
The activities department is also requesting craft supplies, fabric remnants, beads, small picture frames, hair clips, caffeine-free sodas and beauty items such as lotions, shampoos, body washes and body sprays.
Donations may be dropped off at the Hood River Care Center, 729 Henderson Road. For delivery or pickup, call Debbie Medina at 541-490-1575 or email hrccfc551@gmail.com. Donations may also be mailed to: Family Council, Hood River Care Center, P.O. Box 551, Hood River, OR 97031.
FISH food bank building project
Give a donation to FISH food bank building project in honor of friends and family this holiday season. The four locations in Hood River County now serve over 400 families each month, and a new facility is needed that allows clients to wait out of the rain, is handicapped accessible, and where volunteers can efficiently and safely stock and store food with adequate food storage.
For more info call 541-490-1470 or visit fish-food-bank.com. Building contributions can be sent to FISH, 1767 12th St., #147, Hood River, OR 97031.