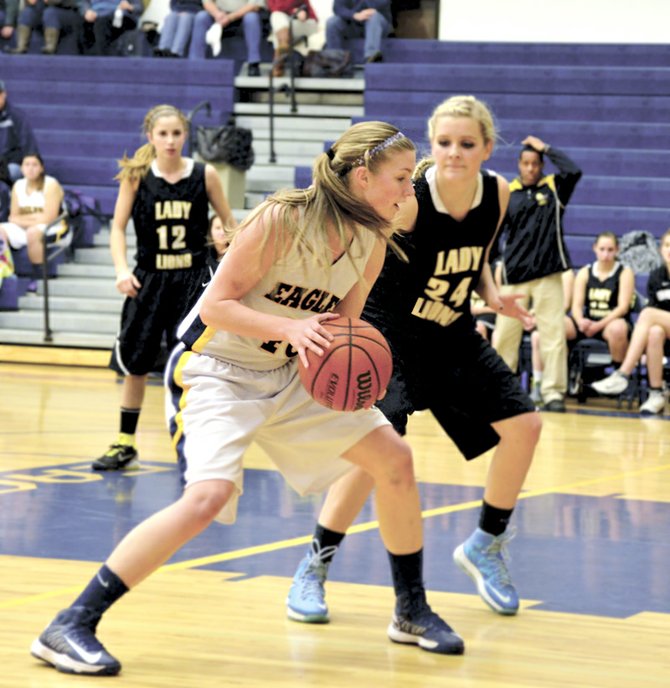 Hood River Valley varsity boys basketball traveled to Franklin Friday evening and returned home with its third win of the season. The Eagles, now 3-4 overall, held off a late-game push from the home team for the 61-57 win.
Ryan Wheat again led the squad in scoring with 20 points and 11 rebounds. Luke Kopecky and Austin Clarke had 10 apiece, followed by Eli Fults with nine points and 11 rebounds.
"We outrebounded them 29 to 18, which was one key to winning the game," assistant coach Don Schmidt said. "Eli and Ryan in particular did a great job on the boards."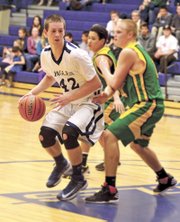 After going back and forth in the first half, the Eagles rallied to finish out the third quarter with a 14-point lead. A slump in the fourth, and a rally by Franklin, brought the game back to within a possession as the time winded down.
"That's definitely something we can work on for the future," Schmidt said. "We had a little bit of a letdown at the end that let them back in the game. We need to keep focused for all four quarters."
The team moved on to host perhaps its toughest opponent of the season — 6A Oregon City — Tuesday, 7 p.m. at Vannet Court.
Highlights vs. Franklin
Ryan Wheat: 20 points,
11 rebounds, 3 steals
Luke Kopecky: 10 points,
4 assists
Austin Clarke: 10 points
Eli Fultz: 9 points, 11 rebounds
HRV Girls
Riding a five-game winning streak, the Hood River Valley High School varsity girls basketball team has a week off from competition to fine-tune before its home tournament Dec. 21-22. The girls hosted their third home game in a row Friday evening and came away with a 56-30 win against the PIL's winless Franklin Quakers.
"It took us a while to get going and we still didn't shoot well from the three or the free throw line, but as they say, a win is a win," coach Tom Ames commented. The HRV girls shot 2-11 from three-point territory and 8-21 from the free throw line. "We still need to improve in several areas, but I feel we're making progress. After the game, there wasn't a player who was satisfied with the way they played overall. I like that. We know that we can play better and I believe we're all on board."
The team hosts the Hood River Valley Tournament Dec. 21-21 and travels to the Gresham Holiday Tournament the following weekend. League action starts Jan. 15 when the Eagles host Pendleton at 7 p.m.
Highlights vs. Franklin
Natalia Ames: 7 points,
4 rebounds, 5 assists
Hallie Curtis: 10 points, 4 steals
Laura Waller: 8 points,
7 rebounds
Kelsey Wells: 12 points,
8 rebounds