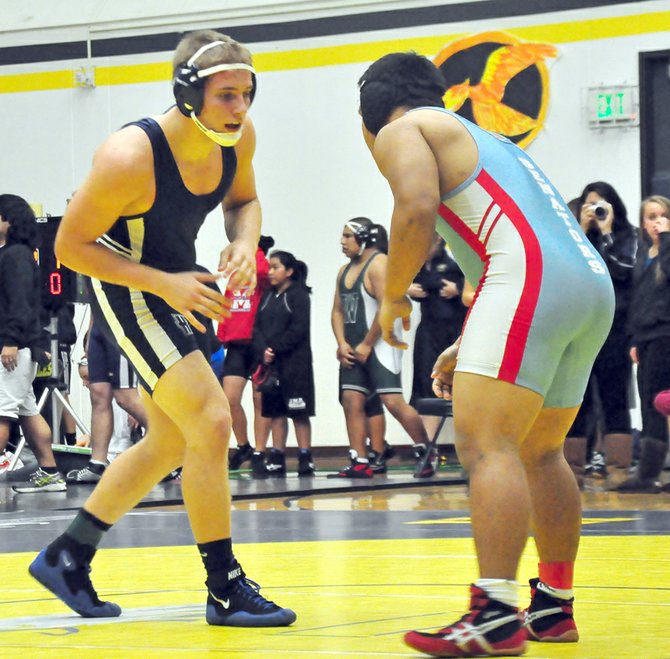 After three "meat-grinder" tournaments in the last three weeks, Hood River Valley High School wrestling travels this weekend to Westview High School for the Northwest Duals. The team has eight duals in two days, including Lakeview, Bend, Dallas, McNary, Glencoe and Snohomish on Saturday.
"Coming off of three of the toughest tournaments we could have possibly signed up for, we're looking forward to this weekend and to beatng some teams after such a tough last few weeks," coach Trent Kroll said Thursday.
The Eagles went 1-5 last weekend in a dual meet tournament at Lebanon against several of the toughest teams in the state. Hood River faced 4A No. 1-ranked Crook County, 4A No. 2-ranked Sweethome, 5A No. 2-ranked Dallas and 5A No. 10-ranked Lebanon, as well as Silverton and Estacada.
"It was a tough weekend," Kroll said. "We went up against some tough teams, and I think we're getting better for it. The kids just need to keep the motivation going and remember that they're getting better and better with these difficult tournaments."
The team lost duals against all but Estacada over the two days of wrestling. Key performances came from Nick Morgan, who proved worthy of his 5A No. 2 ranking by winning all six of his matches and defeating 4A No. 2 and 3 wrestlers. Ramon Ramirez also went undefeated (4-0) and picked up key wins against 5A No. 4- and 5-ranked wrestlers. Andrew DeHart had a solid showing as well, finishing 4-2 overall.
"Nick Morgan is competing like a college wrestler; he looks very, very good," Kroll said. "I'm really looking forward to watching him reach his goals and work for a state championship."
After this weekend the team has an 11-day break in action before starting its league schedule Jan. 11 at Pendleton. The team then hosts Hermiston Jan. 16.
Overall results from
Lebanon Duals:
106 lbs: Jessica DeHart, 2-4
113, 120 lbs: forfeit
126 lbs: Jorge Ortega, 1-5
132 lbs: Texx Spezia-Schwiff, 2-4
138 lbs: Charlie Mallon, 0-6
145 lbs: Andrew DeHart, 4-2
152 lbs: Cesar Zarate, 2-4
160 lbs: Colten Vieira, 1-2
160 lbs: Jeremy Fischer, 0-3
170 lbs: Steven Swafford, 1-5
182 lbs: Alex Buschauer, 0-5
195 lbs: Nick Morgan, 6-0
220 and 285 lbs: Ramon Ramirez, 4-0; Brandon Dominguez, 2-1; Juan Karlos Hernandez, 4-1