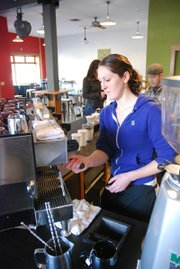 There's now a 10 Speed in town for just about any gear.
Owner Bryan McGeeney opened 10 Speed Roastery last week at 13th and State, bringing to four his 10 Speed cafe locations.
McGeeney's original location, on the Heights, 10 Speed Coffee Bar, remains open, with manager Ben Saur recently purchasing half-ownership.
Meanwhile, Dirty Fingers bicycle repair shop, 10 Speed's neighbor on the Heights, will soon be moving into the other half of the Roastery building.
"The Heights space has always been really convenient, and so Ben and I will keep it going," McGeeney said.
(The Roastery building, 1412 13th, most recently was occupied by Bella's Beads but was Acre coffee house from 2005-2009.)
In June 2011 McGeeney opened 10 Speed North, on E. Jewett in White Salmon, and recently hired Amber Nelson as manager. Nelson, fresh out of culinary school, was also barista at Acre. She will develop 10 Speed North into more of a juice bar location.
10 Speed East, in Mosier, is a coffee bar managed by Ben Zimmerman.
The Roastery expansion will also allow McGeeney and Saur to add to their growing wholesale coffee business. Several stores and restaurants in Hood River are already buying their beans.
"We look for unique coffees and try to roast them in a way that best brings out their particular original characteristics," McGeeney said.
But despite adding new spokes in the 10 Speed wheel, McGeeney and Saur still feel centered on the Heights, where 10 Speed opened in 2005.
"People love our presence. It's somewhere to hang out, a culture hub on the Heights," Saur said. "This is a really great part of town and I've enjoyed being up here. I didn't want the Heights to lose that. We're also a kind of 'if you want, buy it and run' sort of location.
"We wanted to make sure we weren't just opening a new location doing a new thing, that we were offering a new perspective," said Saur, who has worked as Heights manager for the past 18 months.
McGeeney said Saur "was adamant about maintaining the Heights location," and so McGeeney offered him partial ownership.
The Heights shop will have a limited food menu, with coffee and non-alcoholic drinks only.
"It will be more of an in-out coffee bar, and the Roastery will be more full service, sit-down oriented," McGeeney said.
McGeeney owns the building, and Dirty Fingers owner Mitchell Buck leases the east end..
What makes the shared building unique is that the Roastery and Dirty Fingers will hold a joint OLCC permit, allowing evening beer and wine service, in addition to Buck's bicycle services and McGeeney and company's breakfast and lunch and coffee offerings.
"We've developed a really symbiotic relationship on the Heights," McGeeney said of his professional connection to Buck. "I'm excited to have him down here."
He said customers will enjoy an "open floor" with Dirty Fingers, and both will have 4-5 beers on tap at selected times. A roll-down door separates the two sides.
"There should be a free flow of customers at times between the two shops," McGeeney said.
At the Roastery/Dirty Fingers, "Our goal is to create a new space where people want to come and gather, and hopefully overcome some of the challenges of the (Roastery) space," in particular traffic access in and out of the space at 13th and State.
"The Heights has been a good location for us, but now we're freed up more to focus on growing the wholesale aspect of the business and we have the room to do things we did not on the Heights," McGeeney said.
That means expanded food service, live music, and events such as film openings. Within about a week, the front of the Roastery space will be shared by the stage and the roaster itself.
McGeeney hired Anna Coughlin as pastry chef at the Roastery, where she is building up the breakfast and lunch menus, including sandwiches, quiches, small plate breakfasts and lunches.
Roastery hours are 7:30 a.m. to 8 p.m. daily; hours may be adjusted to accommodate beer and wine service.
The Heights 10 Speed Coffee Bar hours are 6:30 a.m. to 6 p.m. Monday through Saturday, 7:30 to 4 p.m. on Sundays.