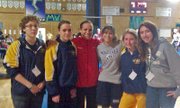 The Hood River Valley wrestling team had a busy final week of 2011.
While the HRV boys were competing at the Northwest Duals at Westview High School in Beaverton, several girls from the team were competing at the West Coast Women's Championships at Mountain View High School in Vancouver, Wash.
Among the HRV girls competing, Jessica DeHart (100 pounds) and Katie Eddy (124) placed first and Frannie Ybarra (106) placed third.
MaKenna Sullenger and Marina Smith also participated in the tournament for the Eagles.
As a team HRV placed seventh out of 32 teams with 76 points.
At the Northwest Duals tournament, the Eagles went 3-4 in the tournament. The Eagles opened with a 42-24 win over Forest Grove and 60-21 win over Tualatin, but went 1-4 after that. Tualatin beat HRV 39-29, Southridge beat HRV 39-34, Sunset squeezed out a 38-36 victory and Dallas beat HRV 47-14. The Eagles beat Hillsboro 64-13 in the second day of consolation wrestling.
The Eagle team returns home to face Cleveland, Roosevelt and The Dalles in a three-way dual meet tonight at 6 p.m.