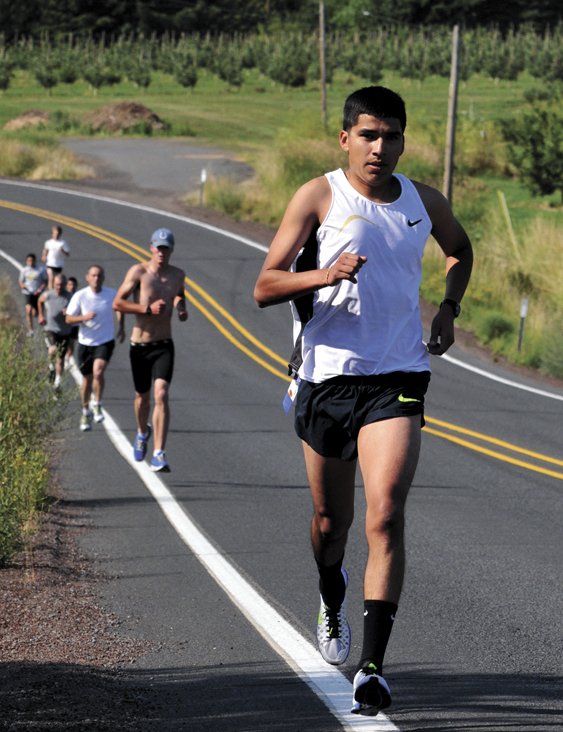 More than 450 walkers and runners turned out Wednesday morning for the annual Kollas-Cranmer Memorial Run. Sunny skies and cool temperatures greeted participants with near-perfect running weather, and as more and more people passed through the registration tables, it was clear the crowd was the largest the run has ever seen.
"It has been getting bigger and bigger every year," said Mary Gumm, who has been coordinating the event for the last 14 years. "One thing I noticed this year was a good representation of younger runners, which was great to see. We had a lot more high school and middle school-aged participants, which I think is a sign of good things to come."
Although most take the run at a fairly mellow pace, the fastest finishers complete the 7.4-mile course — which is far from flat — in under an hour. This year's fastest finisher was Hood River Valley High School alumni Yonny Castillo, who finished in 41:40.
The standing course record is 37:18; set about 10 years ago by Ahrlin Bauman. Brothers Ahrlin and Oscar Bauman have dominated the field of runners to finish first for the last several years. Both sat the race out this year; and if this year's results have any measure for the future, Yonny and his older brother, Leo, could be the next two iron-lungs to contend with.
"I got lucky with Leo not running this year," Yonny said after the race. Leo finished third last year behind the Bauman brothers. "It was just part of my training right now, so I can get ready for November."
Yonny will make the transition this fall from Southern Oregon University to Willamette University, where he will follow in the footsteps of Leo, who was a standout runner for the college and helped the Bearcats to the national cross-country championships last year.
Although Yonny will have a lot of hard work ahead to follow in Leo's footsteps, one thing he does have over his older brother is a first-place Kollas-Cranmer finish; a humble but not insignificant honor to achieve.
In other race news, two new course records were set this year. In the grade 1-5 category, Grace Neal finished in a time of 55:52, beating the previous record set in 1983.
In the age 50-59 category, Madelaine Sellers finished in 52:25, beating her own record (set in 2009) by 25 seconds.
n
"With more and more people participating, the help we get running the event has become more important," Gumm said. "The Hood River Wrestling Club was a huge help once again, as was the Hood River County Sheriff's Department, Odell Fire Department, the parade crew and all of our volunteers. Without all the help there is no way we could make it happen."
Gumm said the money raised from the run is donated to groups who help put it on. For the Hood River Wrestling Club, that means an important step toward supporting youth wrestling programs.
n
2012 top male finishers:
Yonny Castillo: 41:40
Samuel Cordell: 43:29
Aaron Baeza: 45:08
2012 top female finishers:
Lynn Dutra: 47:52
Dana Reid: 51:44
Madelaine Sellers: 52:25
n
Course records date back to 1975, when 46 runners participated. The standing course record of 37:18 was set 10 years ago by Ahrlin Bauman. Last year Bauman finished first with a time of 38:24, with his brother, Oscar, finishing 30 seconds behind and Leo Castillo.
On the women's side, last year saw HRVHS alumni Lauren Lloyd finish in front at 52:11, followed by Kara Parker (53:07) and Madeleine Sellers (53:12).