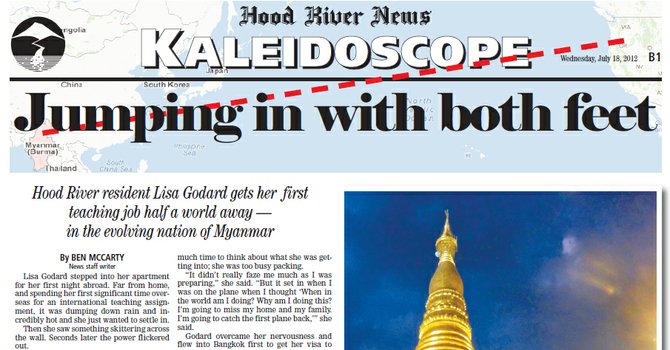 Lisa Godard stepped into her apartment for her first night abroad. Far from home, and spending her first significant time overseas for an international teaching assignment, it was dumping down rain and incredibly hot and she just wanted to settle in.
Then she saw something skittering across the wall. Seconds later the power flickered out.
Welcome to Myanmar.
The previous month had been a whirlwind for the 2001 Hood River Valley High School graduate.
Photo Gallery
Jumping in with both feet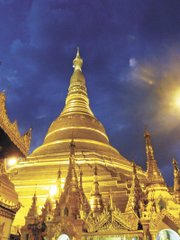 Images from Lisa Godard's time in Myanmaar so far.
After graduating from Western Oregon and then from Portland State with her master's degree, she was looking for a teaching job.
"Maybe I'll teach in Hood River, or maybe at least in Oregon," she said. "But I couldn't find a job."
Unable to find a job close to home, she began looking at overseas teaching jobs through International Teaching Services.
After going through an extensive process just to get invited to the job fairs for the positions, she eventually got an offer from an international school in Myanmar.
"I was sitting at the computer and I'm like, 'Where is Myanmar?'" she said.
Myanmar, also known as Burma, sits in southeast Asia, bordered by Thailand, Laos, Bangladesh and China. For 40 years the county had been run by a military junta, with a long track record of human rights violations.
"You don't want to go there," her dad told her. "It's dangerous."
Godard waffled back and forth about deciding whether or not to go. Eventually she decided to give it a shot, only to be informed by the school in Myanmar they had decided to go in a different direction.
Off to more job fairs she went. On her way back from Alexandra, Va., in her continued quest for employment, she got an email from the school in Myanmar saying they were interested again and requesting a phone interview.
"Within a few days I had a job," she said.
She received the offer in June 2011, and was expected to fly out in July.
Over the next month she didn't have much time to think about what she was getting into; she was too busy packing.
"It didn't really faze me much as I was preparing," she said. "But it set in when I was on the plane when I thought 'When in the world am I doing? Why am I doing this? I'm going to miss my home and my family. I'm going to catch the first plane back,'" she said.
Godard overcame her nervousness and flew into Bangkok first to get her visa to enter Myanmar.
No foreign teachers are allowed into the county. Instead she had to put "educational specialist" on her visa application.
The Myanmar Goddard arrived to was a changing one. The county's first semi-free elections since the military assumed control were held in 2010. Opposition leader and Nobel Peace Prize winner Aung San Suu Kyi was released from house arrest.
"For me, as an outsider it is changing really fast," Godard said.
However, much of the information the school's teacher get on the changes comes from the outside world – from CNN or BBC news reports. Citizens don't want to share their views too much, even though the country may be opening up to democratic changes; and to the outside world, the military still maintains control.
She has found the Burmese to be helpful to a fault but still "a lot of people don't want to talk about their country," she said.
Godard teaches at a private school with an American curriculum, for children of some of the wealthiest and most powerful residents of Yangon, the nation's old capital.
"All of our students are local from the very wealthy," Godard said. "Some of their dads are generals."
Godard says the as far as her experiences go the country has been a safe place to be — if only because no one wants to say anything that may incur the wrath of the military.
Part of the visa arrangement through the company she works for means all the school staff need to leave every seven weeks to renew their visas.
That gave Godard the opportunity to explore some of southeast Asia and decide that she loves Bangkok, where unlike Myanmar, phone and Internet access is plentiful.
Inside Myanmar she has experienced life in a busy city, ventured to villages in the countryside, and been to unspoiled beaches on the coast.
She's also learned to put up with the quirks and struggles, such as the constant power outages, difficult traffic and potholes and unpaved roads (some of which were paved conveniently, if not coincidentally, just before the arrival of U.S. Secretary of State Hillary Clinton in the country last year).
She also eventually figured out what gave her a scare by scampering across her wall the first night in country: A gecko.
"Geckos are now my best friends," she said. They pop up everywhere in her apartment, from the curtains to the fridge, but do have their benefits. Mainly they eat all the mosquitoes and other insects.
In a few weeks she heads back to Myanmar for her second year of a two-year contract and says, not only is she considering a third year in Myanmar but the possibility of other international positions beyond that.
For someone who was looking for a teaching job in her home town, and never been overseas outside of a two-week trip to Spain in high school, it's bit of a new lifestyle change.
"It was all these firsts," she says of her time overseas so far. "People are telling me, 'Holy moley, you really know how to jump in with both feet!'"