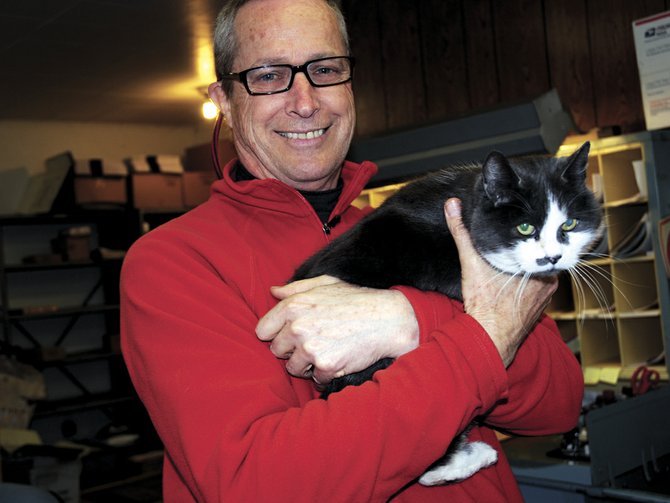 Odell — The affection for postmaster John Smith came hand-delivered on Wednesday.
The community pulled a big surprise on one of its favorite people.
That morning, a table full of food and a steady stream of well-wishers filled the lobby of the Odell post office,
Smith retired Friday after 19 years in charge in Odell out of a total of 35 with the U.S. Postal Service.
"I will miss the people, the wonderful people of Odell who have made this such a great place to work," Smith said Wednesday as friends gathered.
"It has been such a pleasure," Smith said. "I won't miss the bureaucracy of being a government worker. I won't miss the paperwork and all the hoops you have to go through, but I will miss this place and these people."
Smith and his wife, Marilyn, are remaining in the county. They have two grown sons: Isaac, 29, who lives in Hood River, and Noah, 31, who lives in San Francisco. Marilyn runs the nonprofit United to Fight Paralysis; Noah was injured in a vehicle accident in 2002. He now works as an attorney for the U.S. Environmental Protection Agency.
Kim Eastman helped arranged Wednesday's open house along with Butch Gehrig, "Mayor of Odell," and Fred Duckwall, president of Duckwall-Pooley, "and one of our biggest customers," Smith said.
"John has always been so helpful. I'm not sure he realizes how much," Eastman said. "You call him up and he recognizes your voice right away."
Gehrig, Duckwall and others passed around cards at Duckwall-Pooley and at Gehrig's Texaco, and asked for donations for a gift.
"The cards were just filled with signatures, and people just gave," said Eastman, grower accountant at Duckwall.
Duckwall's Elia Hernandez and Smith shared a comic memory from one time when Hernandez took her turn delivering the company mail at the end of the day.
It seems Hernandez mixed up the mail and her workout gear.
"I ended up with some of your dirty socks," Smith said. "I kept them for you overnight."
The memory was just one example of the kind and humorous way Smith dealt with everyday situations.
"He is just this calm and warm spirit whenever you see him. You can be having a really bad day and at the end you take the mail in and you see John and his smile and he just gives you a lift," Eastman said.
While well-wishers filled the small lobby, Smith alternately helped customers, including Doreen McEuwen, who bought a book of stamps.
Smith became Odell postmaster on April 3, 1993, and much has changed in his three-plus decades with the Postal Service — the popularity of stamps, for one thing.
"Not nearly so many letters. We've seen the change to electronic communications, and the change will continue. It's inevitable."
But the role of the post office as community place was palpable on Wednesday. The open house had an "old-home-week" feel as friends visited over sandwiches, fruit, cookies and coffee provided by Duckwall and Gehrig. Eastman said she was delighted to see McEuwen come in.
"I had not seen her for years. She was a substitute teacher of mine in middle school, and she remembered me," Eastman said.
When asked what made the Odell post office unique, Smith immediately mentioned Curly, the gray-and-white four-pawed regular.
"We are probably the only post office in Oregon and one of the few post offices in the country with an official cat," Smith said. Curly "just showed up one day about eight years ago and he's been here ever since," Smith said, adding that the Odell office has permission to keep Curly on.
Asked his favorite stamp, Smith did not need to think for long.
"Bobby Jones," he said. The 18-cent stamp commemorating the golf legend was issued in 1981.

"I like the stamp. I like Bobby Jones and the kind of man he was," Smith said.
Fittingly, what the community gave to Smith, a 3 handicap golfer, was an ample gift certificate to Divots Restaurant at Indian Creek Golf Course.
"I'll definitely be playing more golf," he said.
n
Smith departs at a time of transition in the Postal Service. Numerous small post offices in Oregon are slated for closure, but none in Hood River County.
Virginia Hawkins has been assigned as interim postmaster. Smith said she will remain two or three months, possibly longer. Smith said she will likely be one of several interim postmasters, as part of the nationwide USPS reform process.
Hawkins started work this week, assisting Smith in the transfer of the post office books.