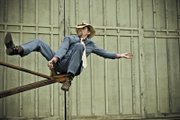 Jim Drake's Entertainment Blog
Eagles, doves and Byrds
Yesterday morning I was coming down the hill, on my way to work. Running behind, as usual. And about three quarters of the way down, I saw something ahead of me flutter off the road. As I drove by, I was craning my neck to see what had flown up into the nearby trees. I caught one glimpse of the bird's shape - and it caught my eye because ... it looked white. "White?" I said to myself. What the heck was that? I mean, it wasn't an eagle - too small. I pondered the incident during my big 10-minute commute to the News from Mosier.
A few hours later, as I'm putting the finishing touches on my Jonathan Byrd interview, it hits me. A dove. I saw a white dove. And I can't remember the last time I saw one. Maybe he'll come up to our feeder. I'm betting he might live in the rafters of the old Mosier Grange.
I hope the music on Sunday doesn't scare him off.
Interview with Jonathan Byrd
Hello Jonathan and thanks for stopping by Mosier. Mosier is a pretty small town, so you must know some folks here that wanted you to play the grange. How did you line this show up?
Tom and Margaret Herrera are members of the ukulele group that meets at the grange. They are also big fans of ours. They set up the show. Dan Ross, who has promoted a show for us in The Dalles, is also involved.
Please tell us a little about your background, what your music is like and what can we expect to be hearing on April 29.
I'm a seventh-generation North Carolinian. My father was a preacher and a home builder. Mama played piano for the church services. My older brother played guitar. I don't remember when I started playing and singing. I live outside Chapel Hill and make it out to the Pacific Northwest at least once a year, sometimes twice. My songwriting chops come from Old-time and bluegrass material, and also Texas writers like Townes Van Zandt and Steve Earl. My guitar style is rooted in the flatpickers: Doc Watson, Norman Blake and Tony Rice. Chris Kokesh, who is joining me for this tour, is an Oklahoma native living in Oregon. Her fiddle playing is melodic, country style, like Scott Joss (who plays with Merle Haggard). Chris's songwriting is inspired by modern folk songwriters like Patty Griffin, Shawn Colvin, and, she just informed me, Jonathan Byrd. Our show is a soup of that. We play like southerners and write songs like Texans.
I just listed to the song "Chicken Wire" online. A great bluegrass song! Who did you have helping you out on that one?
"Chicken Wire" was written with Tom Gould of Ash Street Music in Nashville. It was a blind date and we only wrote one song. "Cackalack," the album the song is on, was recorded in Toronto with members of the Creaking Tree String Quartet and the Foggy Hogtown Boys. Treasa Levasseur and Corin Raymond sing harmony, as well. The album was recorded by Ken Whiteley in his converted garage, "Casa Wroxton." Ken and everyone else involved are Canadian legends and stars. The U.S. hardly knows them. We made the record in six hours, from 10 a.m. to 4 p.m. on Nov. 23, 2009. Ken made soup for lunch.
Thanks Jonathan and enjoy your visit to the Gorge!
I love the Gorge. I most certainly will enjoy it. Thanks for the interview.
Jonathan Byrd will be at the Mosier Grange Sunday, April 29, at 2 p.m. Chris Kokesh joins in on fiddle. Tickets are $15 at the door.