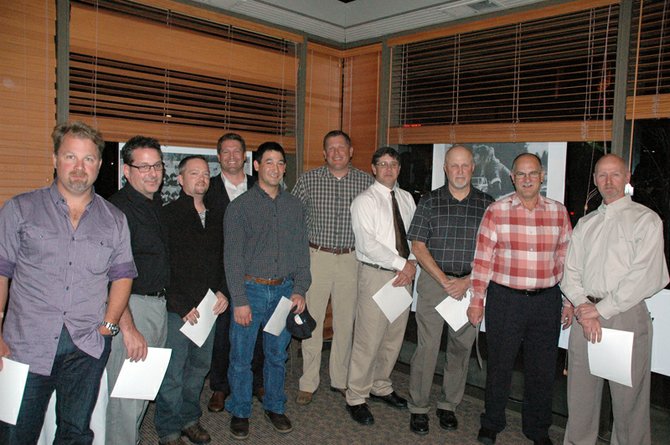 A stellar group of inductees including former professional athletes, national champions and Oregon high school state champions were some of the new members selected to Hood River Valley High School's Athletic Hall of Fame.
The 32 newly inducted 2012 members consisted of current community members Richie Carter, Tom Greenough and Tony Dallman and former area residents such as Jesse Lopez, Ann Harmon and Bobby Biehn.
The fifth-annual HRV fundraiser event, spearheaded by HRV Athletic Director Keith Bassham, raised nearly $4,000. It included a dinner and a slide presentation by Shawn Meyle and was attended by more than 120 people.
"We had a great turnout, which was wonderful to see, especially since everyone we invited to come showed up," said Bassham. "We had great support from the community and it's just a very good fundraiser event. There were good speeches and great stories told by Richie Carter and Tom Greenough.
"It was good to meet people that I've heard about for a long time and I never had a chance to meet them until today," he said.
Inductees received commemorative plaques and a pleasant round of applause from the crowd, and they provided very interesting and often humorous speeches in their podium appearances. An appreciative standing ovation following their introduction by emcee Mark Bailey was given for some members such as Greenough, Dallman and Lopez.
"I'm so proud to be a member of the Hood River Valley Hall of Fame," said Greenough, who coached Eagle football, basketball and softball teams during the 1970s and 1980s. "I've spent over half my life here. I love everybody in this valley and it's a great place to live and work.
"I coached lots of kids and many of them have continued to work very hard and have been quite successful in their careers, while they became pillars of this community."
Dallman, a former HRV soccer coach, was instrumental in helping make soccer an official varsity sport. Lopez, of Las Vegas, Nev., is a 1982 HRV graduate who was a member of the Eagles wrestling and baseball teams.
Lopez made headlines, though, with his athletic prowess in the boxing ring. He was a four-time Oregon Golden Gloves champion, two-time Las Vegas Regional Golden Gloves champion and a two-time national champion. He posted a record of 185 wins and 17 losses in an amateur career and was 20-2 as a professional boxer.
"This is a great honor, because boxing wasn't part of high school sports," said Lopez. "To be recognized now for my athletic accomplishment is an awesome feeling. It's nice to be acknowledged for the successful career I had in boxing."
Carter, a 1980 HRV grad, was a three-sport star athlete who competed on the Eagles football, basketball and baseball teams. He earned baseball all-state awards in 1979 and in 1980, when he was selected as the state Player of the Year.
A standout pitcher, Carter posted an earned run average of 0.28 in 1980 and helped lead HRV to its first-ever baseball state championship. Following high school, Carter continued a successful baseball career as he became a junior college All-American at Umpqua Community College.
Carter also had a five-year professional career that included playing for the New York Yankees in 1982 and also for the California Angels.
"Any time you get elected for something like this, it's such a great honor," said Carter, who is currently involved in OSAA athletics as an official in football and basketball. "Winning the state title was huge and I also had good career in junior college, such as in 1982 when we finished sixth place in the national playoffs.
"I have so many great memories from my baseball career and what's really nice is that lots of those guys who were my teammates are still good friends of mine today."
HRV's 1986 state champion baseball team was also honored while represented by seven players and coaches Glenn Elliot and Larry Bowe. Players who attended included Mike Williams, David Adams, Jeff Mansur, Eric Hagee, Jim Hart, Clinton Curtis and Biehn.
"That team was awesome; it was the greatest memory I had in high school and it was an experience that I'll never forget," said Biehn, of Portland, who was the Eagles' catcher. "I felt surprised and honored, especially since I didn't even know that we had a Hall of Fame until I was notified about it in a letter that I received.
"I've seen people that I haven't seen for 20 years, so this is fantastic. I had a really great time and I enjoyed seeing all the guys that were here."
The 1975 Eagles girls ski team, guided by coaches Rick Dills and Roy Nellermoe, earned a Hall of Fame selection. The skiers on the squad included Debbie Magnusen, Ann Harmon, Jennifer Euwer, Tracy Kennedy, Terrie Leavens, Joi Edwell and Cathy Jensen.
"It's great to come back here and visit people and feel the camaraderie, caring and dedication that you see here in Hood River, which is something rarely seen in other places that I've been to," said Harmon, who lives in Colorado and is still involved in the sport as a skiing coach.
Holly Donnelly Lavoie earned a Hall of Fame selection for her remarkable career on the Eagles softball teams from 1989-1992. Donnelly earned softball all-state awards and she helped lead HRV to championship game appearances in 1991 and 1992. She lives in Parkdale and is a teacher at May Street School.