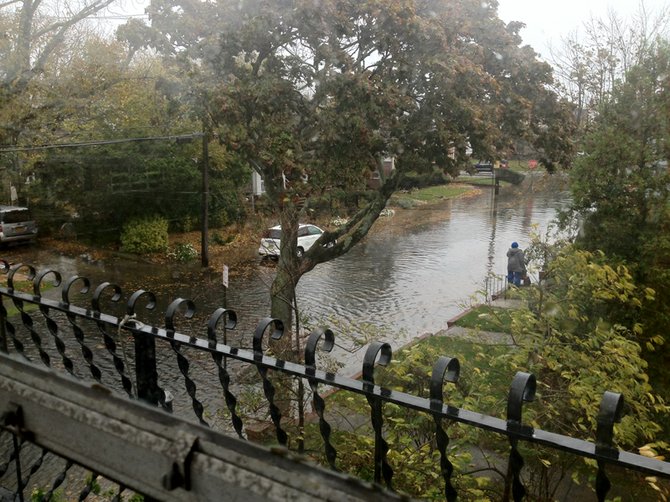 Superstorm Sandy was 3,000 miles from here, but people feel the impacts through friends and loved ones who were on the east coast when Sandy struck last week. Sarah Plotkin of Hood River flew to New York last Wednesday to visit her mom on her 83rd birthday.
"She still lives in the neighborhood where I was born. Like the vast majority of the Rockaway population, she does not ever want to live anywhere else. "During the storm and the day following, the worst thing was the feeling of isolation. When I got out of there and was reconnected, I received several texts, emails and phone calls from friends who knew where I was."
Plotkin sent this email from Rockaway Beach, hit hard by last week's Superstorm Sandy:
Thank you all for your messages of concern. Mom and I are now safely at my brother's house in Westchester County. Over the weekend we made what is now clearly a very poor decision, and chose to defy the evacuation order and ride out the storm at Mom's apartment in Rockaway Beach. She lives on the second floor of a duplex.
We were not alone in this decision — my guess is that at least 80 percent of the population stayed put. We put the car in the garage so it would not be damaged by falling tree limbs, stocked up on food and water and made sure we had flashlights and candles. We figured we would be without power for a day or two, and that would not be a problem. You would think that I, an actuary, would be a better assessor of risk.

On Sunday the landlord, who lives downstairs, encouraged us to leave. He said he was turning off the gas to the furnace and the water heater as a precautionary measure, and that he and his family were leaving. On Monday morning at high tide the street in front of Mom's house was covered with water. I took pictures and sent them to my siblings. My two brothers replied by urging us to change our minds and get out; my sister said, "looks like fun."
On Monday afternoon, we watched a movie and cooked a nice dinner. The wind was blowing all day, but the water had gone back down. There was not much rain. Just after dinner the lights went out — no big deal. We sat and talked and oohed and aahed when there was a particularly big gust of wind. I mean after all, 45 mph is nothing, right? People windsurf in that much wind.
Before too long we started hearing car alarms go off. The electrical systems were shorting out as the salt water was rising. We looked out but could not see much, as it was so dark. But there was a weird glow in the street, and mom was the first to realize that we were looking at a fast-moving river of water with sea foam on top. We could not really tell how high the water was.
A few minutes later lights went on in the car parked in the driveway across the street. No one was in it — the salt water turned them on. For a few minutes I could clearly see that the water was over the curb, across the sidewalk, up the driveway and midway up the car's license plate.
Suddenly I was no longer so cavalier about things. I worried about mom's car, but her driveway was higher, and her car was in the garage, so I held out hope that it would be okay.
As we were getting ready for bed, I looked out the window again. It was no longer dark. The sky was glowing orange — a fire was burning and reflecting off the clouds. As my stomach rose up into my throat, my logical mind thought, oh, I didn't consider that possibility.
This was not the big fire you have heard about, the one that burned over 100 homes. But this one took out a restaurant and a whole block of homes just nine blocks from where we were. Two of them belonged to friends of my mom. We went to bed, but suffice it to say that I did not sleep much.
On Tuesday morning, before daylight, I looked out the windows and could barely make out shapes of things that did not belong in front of the neighbor's house. As it got lighter, I could see that the debris was everywhere. The water in the street had gone down to isolated pools of water, and had dropped its cargo on the streets, the sidewalks, up our driveway. Garbage cans, beach chairs, all the stuff that people had neglected to store securely.
But once we went outside and walked around, we saw much more. A door still in its frame. A mattress. A piano.
The landlord showed up to check on the house. He had come across one of the "closed" bridges. The basement apartment, where his son lived, was completely full of water. Completely. He declared the house "unlivable" and left.
I put on some rubber boots, because of all the mud in the driveway, and went out. I opened the garage and checked on mom's car. I could not see any mud on the sides, so I thought that maybe it was okay. I went back inside and got the car key — which turned out to be unnecessary as the doors had unlocked when the car shorted out. I felt the floor — wet. I felt the seat — wet. I opened the glove box and found it full of water. I kissed it good-bye and went to tell mom the bad news.
We tried to make some phone calls — after all, I had dutifully charged both cellphones since we expected the land line to be dead. What I did not consider was that four cellphone towers that service the Rockaway Peninsula would be out of commission.
Using my "device," I was able to get one email out to let the family (and David, of course) know that we were okay. For future reference, when you are frequently trying to make calls and the calls keep dropping and your phone is searching for a signal, your cellphone will last only about 24 hours. Even if you are careful.
We walked through the neighborhood, about a half a dozen blocks, to go check on mom's friends, a couple probably in their late 70s. Their house is only a few lots up from the beach wall. Only there was no longer a beach wall. And the two homes right on the beach were torn in half.
Mom's friend Joe seemed to think that their car was okay, and we discussed the possibility of our getting a ride out of there. Then he showed us the car. It was in the driveway, but not where he had left it. It had floated forward until it was stopped by the tree that fell on it.

I couldn't face much more of this, so we went back home to our safe haven and ate some lunch. After lunch I helped mom to pack to pack for what I know will be an extended period, even while I had no idea how or when we would be able to leave. Even if her landlord was not totally incompetent, it will take a long, long time to get things working again.
Once packed, I started making my plan for the next day. With no phone and no car, I was trying to decide between walking, hitching or biking (the bike had also been under water in the garage) the fairly short difference to 116th Street. My goals were to find out if the local car service had any cars, and to see if there was any place to buy a cat carrier for Mickey, my mom's semi-feral cat. If not, I was prepared to start asking anyone I saw if they would be willing to drive us to my brother's house, about 1½ hours under good conditions.
I also tried to reach my siblings. I was somewhat afraid to ask them to come for us, and I wasn't sure they could get there even if they wanted to. Still, I really wanted help. I was up for much of the night again on Tuesday, trying to make plans and contingency plans.
This morning, just around sunrise (why bother to get up before sunrise when it is too dark to see), I turned on my mom's cellphone and tried to text my brother with the last 5 percent battery power. I was clumsily typing "please come," when I heard footsteps and then a knock. There was my brother David, my hero. He even brought a cat carrier with him.
A couple of hours later, we were eating breakfast in his kitchen with my nieces. He didn't even say, "I told you so."
So we are fine, we were fine all along. We were comfortable and well-fed and nothing bad happened. (Except for the car, but that's why we have insurance.) Only it was stressful and scary and tense and all that. I hope there won't be a next time, but believe me, if there is ever another time in my life when someone even suggests that I evacuate, I'm going without a second thought.

Thanks again for your kind words. I didn't get them until today, but they were comforting even in retrospect. I am so looking forward to the wonderful weather back home. I mean it.