This week volunteers at Adopt A Dog have selected Dottie as the program's adoptable pet of the week. They describe her as follows:
"Dottie is about 4 years old, a Shih Tzu, and approximately 20 pounds. She's been in a cage all her life, so when she first arrived at the shelter, new things and wide-open spaces were a little worrisome to her, but she's a brave little girl and soon discovered how exciting freedom can be!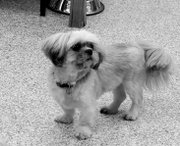 "Dottie has quickly turned into a playful, fun-loving girl, who is usually the one leading the other dogs onto the next adventure. She loves to play with toys — well, more like she doesn't really know what to do with the toy, so she just carries it around and shows it off to her new friends — and she loves to be with other pups!
"She gladly greets new dogs with a friendly sniff-sniff, but sometimes new humans can catch her off guard and she has to take a breath before she approaches, but that's soon passed once she's given a little time! Dottie has decided that her new role in life is to play and be the best lap dog ever! "She's a smart girl and needs a patient family willing to help her achieve her quest."
Dottie is current on shots, micro-chipped and spayed. Her adoption fee is $185; cash or check only, please. The adoption fee is charged to help recover standard average veterinary expenditures for each dog.
Please call ahead to meet Dottie at the Hukari Animal Shelter, 3910 Heron Drive, Odell; 541-354-1083. Adoption hours are Wednesdays from 5-7 p.m. and Saturdays from 9-11 a.m. Applications may be downloaded at www.hoodriveradoptadog.org and faxed to 877-833-7166.
The Adopt A Dog program offers 24PetWatch microchips, which include free registration into the 24PetWatch pet recovery service. (For more information visit www.24petwatch.com or call 866-597-2424.)