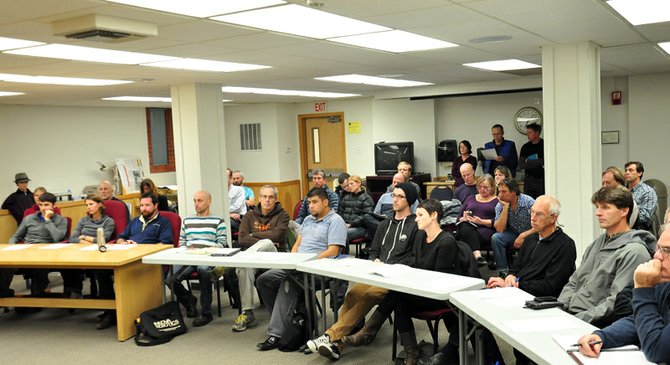 Where the ball will bounce, nobody seems to know.
Dozens of community members and stakeholders met with the Hood River County Board of Commissioners Thursday night to begin a process of finding more space for team sports in the county.
Field space has been an issue for years for local youth and recreational sports programs, and the issue is only likely to get worse in the near future.
Representatives of government bodies including the Hood River County School District and the Hood River Valley Parks and Recreation District joined with members of youth soccer programs, baseball, adult recreation teams and landowners to try and open a pathway toward a field crunch solution.
Currently many sports groups must fight for space at Westside Elementary School fields, wait for fields in the upper valley to dry out or use lesser-maintained fields for their activities.
"We struggle to find space to practice, much less play," said Hood River Dynamos president Pepe Rivera.
The issue is likely to come to a head in 2014, when a planned expansion at St. Mary's Fields will take away current Little League fields located behind the church on Belmont Drive.
"We've given the fields since 1961 free of charge, but now there is a church issue and the church takes precedent," said Mike Schend, a St. Mary's parishioner and former head of Hood River Community Education.
Schend said the church feels bad about taking the fields back, and is working with Little League to try and find a solution.
While the Little League field issue is one which will need to be resolved, the meeting was focused in more broad terms on finding places for Hood River-ites to play.
It quickly became apparent that the variety of activities happening in the area are both a blessing and a curse.
Many of the groups wanted to see an increase in sports fields. Others said there was a need for gym space. Others said there was a need for a multipurpose indoor facility.
Others said there was a need for turf fields, either on current fields or those yet to be constructed.
Nick Hogan, the financial director for the school district, said the district currently maintains all of the sports fields in district property — where most of the athletic fields in the county reside — to the tune of $200,000-$300,000 a year.
Schend said that a multi-field complex, which would be able provide a home for many sports from baseball to lacrosse to soccer, would likely have to come on non-school district land. That would mean that outside sources, such as community volunteers, would have to maintain it.
"It would put a bit of a hardship on the community to step up and maintain that," Schend said.
However, when the audience looked a map of the county set up on side of the room, another problem became apparent.
"Once you get outside of city limits you get to a lot of places you can't go," said County Planning Director Mike Benedict, referring to exclusive farm use land in the Hood River Valley.
John Rust, the current director of Community Education, raised another practical issue of attempting to put fields in the upper valley, saying that often times mowers cannot get to upper valley fields until May because they are too wet.
Hood River Valley High School teacher Jeff Blackman said that he owned land across from Westside Elementary that may fit the bill for multiple sports fields.
"It's a beautiful piece of land; it would be a beautiful park," he said.
While Blackman said he was willing to lease the land to put fields on it "for a dollar a year" he said he was looking to sell the land, rather than to donate it.
"It's not cheap; you have to look at the big picture," Blackman said. "I'm just telling you why you haven't already bought it. If it was priced like EFU land Parks would have bought it already ... but it's not. Location. Location. Location. I have a few realtors interested already."
Among other possibilities raised during the meeting was Walmart property off of Country Club Road, school district property on May Street or the Hood River County Fairgrounds.
Every location had potential drawbacks, but the bigger issue may be finding fields and locations which could please everyone.
Some in attendance wanted more fields in city limits, saying if people were driving from Portland or Goldendale, taking the extra 20-minute to drive to Odell "makes it a pretty long drive."
Other attendees wanted to see an indoor facility which would extend the season for all of the sports year-round.
Some cited the example of an indoor field which was recently constructed at The Dalles Sports Club.
Further commentators said that while long-term plans for indoor facilities or multi-sport field complexes were all well and good, local teams and clubs need more space now.
"There are some great ideas for great complexes and things but we have real problems now," said Port President and Dynamos coach Jon Davies. "It is no fun to take your kids and a soccer team and show up and there is a scheduling conflict and you have to fight with the frisbee guys. It's horrible."
Davies raised the possibility of replacing some of the current field with turf, which would increase the ability of the fields to handle their heavy loads.
At the end of the meeting attendees were able to sign up for committees, with another meeting tentatively scheduled for Jan. 10.