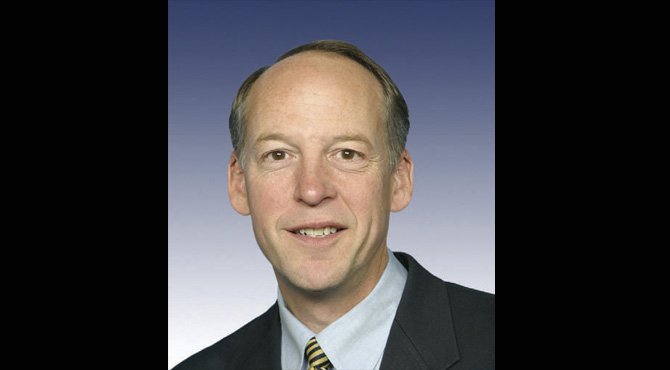 The Republican members of the U.S. House of Representatives unanimously selected U.S. Rep. Greg Walden, R-Ore., on Nov. 14 to one of the top Republican leadership positions in the Congress. He will chair the National Republican Congressional Committee (NRCC).
The post-Thankgiving period brings a host of issues for Congress to deal with, including the "fiscal cliff" – the looming package of tax hikes and program cuts that Republicans and Democrats must work out within seven weeks.
"We've got a heck of spending problem and it's not going to be easy to solve," Walden said Thursday, "unless everyone's a part of it. I am optimistic the president wants to find a solution, I know we do in the Republican leadership It's not going to be easy, but I don't think anyone expects either party to abandon their principles.
"We're at an important point in our history in terms of analyzing who gets subsidies and what are the impacts of those subsidies and what it takes away from other things," Walden said, speaking in a conference call with Northwest media.
"There is a lack of management of our federal timber. We've got to get back to a balanced approach in managing our federal forests ."
Walden, 55, lives with his wife, Mylene, in Hood River. He was re-elected for his eighth term in Congress on Nov. 6.
The NRCC is charged with achieving a Republican majority in Congress, fundraising for incumbent and challenger candidates and recruiting new Republican candidates. The House is currently a Republican-held majority.
The NRCC's mission is to elect Republicans to the U.S. House. Greg Walden has served for nearly four years as Deputy Chairman of the NRCC with Chairman Pete Sessions. During this time, House Republicans regained the majority in 2010 and preserved that majority in the 2012 election cycle.
The NRCC chairman is one of eight positions elected by Republican House members, and Walden will now work with the Speaker, Majority Leader and other top officials to set the House's agenda at the leadership table.
"I work hard for the people of Southern, Central and Eastern Oregon, and this new leadership position allows me to voice the concerns of Oregonians at the decision-making table in Washington, D.C.," said Walden.
"I will continue to reach across the aisle to enact policies that will get us back on track. We must work to promote small business and agriculture, access America's natural resources and better manage our forests to create jobs in the woods. As always, I will listen to and work hard for Oregonians."
The NRCC chairman ranks fifth in the House Republican leadership structure behind the Speaker, Majority Leader, Majority Whip and Conference Chairman. As of today, at least 233 Republican members of the House will serve next year.
Walden discussed his promotion, and a variety of national and local issues, in a Thursday conference call with members of Northwest media. His leadership post "gives Washington a Northwest perspective, an Oregon perspective, to weigh in these issues, from natural resources such as timber, fires, water, grazing, or the broader issues related to how health care reform will be impact as it affects Oregon to all the related issues."
Walden said, "'I'm interacting daily with the minority leader and the whip. I think it's important we have that seat at the table."
Walden noted that Cathy McMorris Rogers of (R-Wash.) was chosen as conference secretary, the fourth highest GOP post, and Kevin McCarthy (R-Calif.) was named Whip.
"That means Oregon, Washington and California have numbers 3-5 in GOP leadership. I'm not sure that has ever happened. It bodes well," Walden said.
Forest land management, and damage and recovery from forest fires gained plenty of attention in the conference call.
"We have to change federal forest policy and I continue to work with my colleagues on both sides of the aisle and find common ground," Walden said. "Fortunately, (Washington Sen.) Doc Hastings will chair the committee of jurisdiction over these issues.
"I am confident they can find solutions for the Northwest to reduce fires and bring about forest management that will bring solutions," Walden said. "We've had nibbles, we just need to get it done."
On the growing problem of pine beetle kill areas, Walden was asked if there is any chance that areas damaged by the invasive pest can be declared a natural disaster and be eligible for federal relief funds.
"I will look into it," Walden said. "We need an expedited process to prevent the spread of this natural disaster, and to prevent this from all burning up and taking everything around it with it, but also to forests restored and habitat back.
On the prospects for Secure Rural Schools program (aka "county payments") being renewed, Walden said, "They're problematic.
"What we should be doing is actively managing the forests, doing enough harvest to pay for harvest and recovery work and not just shutting down the forests."
Peter Clark, Lake County Examiner, asked Walden how he would create jobs in the forest industry while managing natural resources.
"I made a strong case for wildfire disaster relief, especially for livestock losses, following last summer's destruction in southeast Oregon," said Walden.
He termed as "ridiculous" the federal 10-year ban on harvesting in areas that had burned.
On federal deficit talks, Walden said, "everything is on the table when it comes to the tax code."
Asked about the status of the federal farm bill, also stalled until after Thanksgiving, Walden said that 80 percent of it is about nutritional programs, which I have supported in the past.
"I'm joining with the chairman of the ag committee, Frank Lucas, on how do we figure out how do we move the farm bill forward. We met with the speaker on it. It's controversial and once it gets out of the House we have to negotiate with Senate. "With this farm bill both Senate and House will have bills, and have tried to deal with explosive grown in the nutrition side and who is eligible and who is not, so we can get help to those who are both eligible and in need.
"The other 20 percent relates to important agriculture research. Agricultural research stations, such as Mid Columbia Agricultural Research and Experimentation Center in Hood River, "are very important."
On the issue of farm labor, Walden said, "we have to have a reform in our immigration system that deals with major issues facing the country, including farm labor. The message out of this (Nov. 6 general) election is we need to come together with the president's leadership and find common ground on these very complex issues. I can say, having grown up on a cherry farm, if we don't have adequate labor, we're in trouble. First of all we have to make sure you have votes to pass it forward, and second, we need to bring certainty we can have skilled workers and the farms are legal. I look at it this way: if I can use my ATM card in D.C. to get cash out instantly are you telling me there isn't any technology we can use, so farmers can ID their skilled workers?"
Walden will also remain as chairman of the House subcommittee that oversees communications and technology policy in the House, a post he has held for nearly two years. In this role, Walden has been working to pass major technology legislation that will increase access to wireless broadband in rural Oregon.
In a recent statement, Walden vowed to continue bipartisan work on the panel to create more technology jobs and encourage innovation.