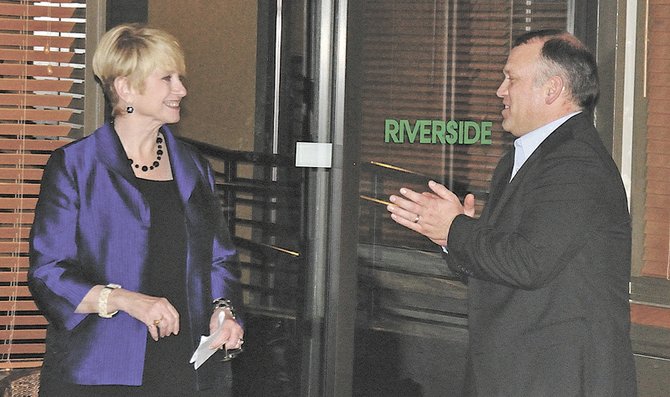 In front of numerous old friends and colleagues, Hood River's Joyce Reinig was honored for 25 years of service on the Columbia River Gorge Commission.
Reinig served from the founding of the commission until her retirement this summer.
Tuesday night at the Hood River Inn many of those who worked with her gathered to share their stories and memories of working with Reinig.
The assembled crowd heard tales from former government employees, former commissioners and others who have been involved in the commission's work over the years.
Former commissioners praised Reinig for her devotion to the commission and all the she had accomplished.
One of Reinig's adult daughters shared stories of also getting to be"de-facto Gorge Commission members" while growing up, as their mom would return home and tell them all about what had happened at meetings.
"I never expected to serve for 25 years," Reinig said. "It's been a great honor to be able to serve and be a steward of this precious resource we all enjoy."
While she did not expect to serve for as long as she did, she said it was a greatly rewarding experience.
"It's part of our soul to be giving back," she said of her family. "We live in a country that gives so much to all of us and if you have the opportunity to give back it rewards the soul."
Photo by Ben McCarty
GORGE Commission Eseuctive Director Darren Nichols congratulates Joyce Reinig Tuesday.