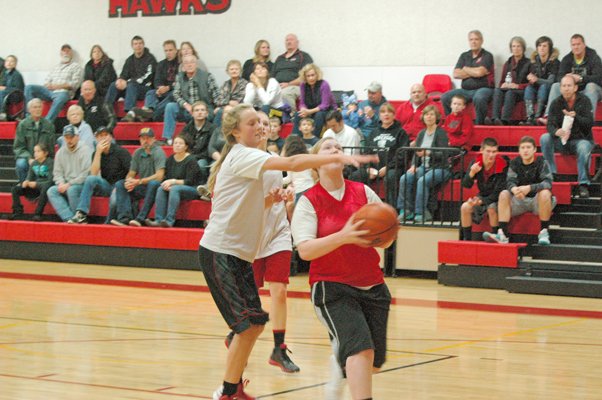 High school hoops in Hood River County started Friday with the second-annual Hawk Madness event at Horizon Christian School.
About 150 people attended an informal scrimmage of the boys' and girls' varsity teams, as well as 20 minutes of a youth team in competition. It was the first chance that Horizon parents and supporters had to see the 2012-13 versions of the teams.
The interscholastic season, with its win-loss columns, starts with the Nov. 30 Horizon tournament, featuring the first official meeting of the varsity squads of Horizon and Hood River Valley High School.
Friday was all about having fun, with Hawk tall guys Jake Wells, Max Totaro and Mason Bloomster all taking turns dunking balls during warm-ups. Even the referees got into the act.
"It's a way to get everyone together to celebrate the start of the basketball season," said Athletic Director Oscar Stenberg. "And, another great thing is that it helps us get the bugs out of the system – to make sure the scoreboard works correctly and the sound system and all the lights are functioning properly."
Speaking of lights, parent Mike Engel wired and hung spotlights over each foul line, and added a rotating colored light system, all lending to the evening's pageantry.
The gym was darkened as the players took their places under the spotlights. The teams got a pro-style introduction from "the voice of the Hawks," Jared Nagreen, a Horizon teacher who was himself a hoops standout before his graduation in 2006.
Stenberg started things off introducing the referees for the night, Horizon hoops stars Bobby Cofrances, Class of 2006, and Cameron Root, Class of 2005.
Halftime brought the traditional "pop shot," as kids and adults paid $1 to shoot a three-pointer and win a two-liter bottle of soda. Some hit air balls, some hit three in a row.
Hawk Madness was the first look at the girls' basketball team led by first-year coach Chad Leeson, and provided a chance to see the defending state 1A champion Hawk boys compete against each other in a high-offense scrimmage with Nagreen offering a gentle teasing in his play-by-play.
When the boys' game concluded, the team handed out Hawks T-shirts to the middle school boys, with the motto:
"Hawks
Anytime/where
Work
Kindness
Service"
n
The Nov. 30 tournament will feature boys and girls teams from Trinity Lutheran, Amity, HRVHS and East Linn. It starts at 3:30 p.m. in the Hawk's Nest, with the Horizon vs. HRVHS boys' game slated for 8:20 p.m.