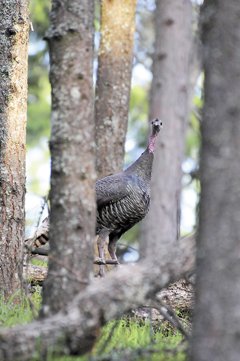 If you've gone on the annual "Tour de Coop" in which dozens of local poultry enthusiasts show off their fowl farms each summer, then you may already know about Ted James and his bird farm. What you may not know is that James has turned his poultry passtime into something that benefits the community.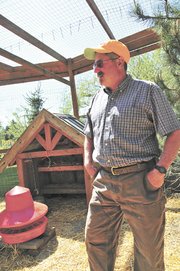 James, a retired financier, operates a model hobby farm for pheasants, chickens, turkeys and other feather friends on the Westside. His mini-city of avian abodes is a routine stop on the tour. The surprise about James' farm is its results: Each year for the past six years, James has transformed his fowl-fun into a formidable fundraiser.
"I believe in building community. If I really enjoy something (like raising birds), I try to find a way to offer benefits to the community in that."
That philosophy led James to search for a community benefit that might be gained from his love of turkey rearing.
"I believe in the honor system," said James. "I raise and process the turkeys and then give them to people for Thanksgiving."
It is the turkey gift that James hopes will in turn inspire the recipients to give cash to local nonprofits in honor of the season.
The good news is that past turkey beneficiaries have, in fact, donated cash to the Columbia Center for the Arts, FISH food bank and other local charities, as a way to enjoy James' gift and "paying it forward."
Last year, James raised 45 turkeys and processed 39 of them himself in below-freezing weather before his pre-Thanksgiving delivery date. That was his biggest fundraiser since beginning the novel fundraising model.
"My lovely wife Helen asked that I limit myself this year so that I would be better able to enjoy our own family Thanksgiving," said James with slight smile. "Last year was a little rough on my carpal tunnel." It seems that James listened to his wife's plea and this year's donations will number closer to seven or eight.
But that isn't the end of James' turkey-trade-ups, nor his only option to build community. He continues to provide ongoing literacy instruction to a college student and his friends. He also donates workshops in printmaking (he's a successful artist himself) so that schools and other nonprofits benefit from the netted donations students offer for their workshops.
And, there is a bigger idea brewing in James' plan to pass along the "get involved and give-back" idea.
James has been researching several other large communities that hold an annual farmer/rancher donation and sale day. He hopes to bring that model to Hood River.
"Ranchers and farmers show up at a public school loaded up with excess produce or product to donate. People come and buy up the items and the proceeds go back into the community through donations to nonprofit groups. I'd like to see something like that happen here."
It is hard to think of a better way of offering thanks for a year of bounty than by sharing it with others. James' turkey-turn-around and ideas for inspiring others is certainly a unique way of expressing the season's sentiments.