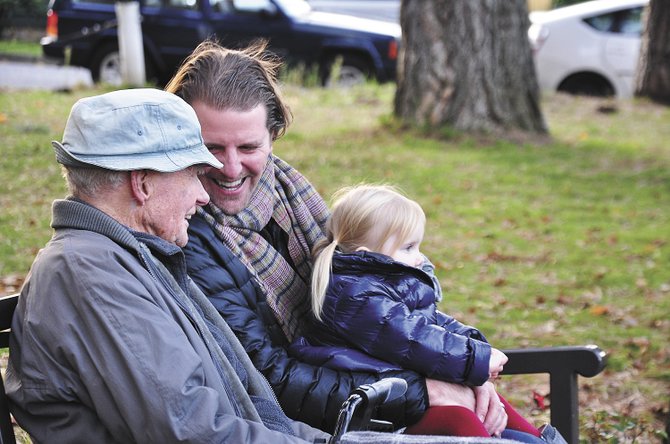 Hood River residents now have a "rest stop" to stop and smell the roses…and lilacs.
At Wilson Park on a chilly Friday afternoon, Hood River mayor Arthur Babitz read the dedication for a bench, a pair of rose bushes and a lilac bush in the middle of the park.
The bench was donated by the children of 101-yeard old Hood River resident Clyde Wilson.
Wilson donated the two rose bushes, one for each of his two late wives, Sue and Helen, and the lilac bush, which represents himself. Wilson was married to each of his wives for 36 years .
Wilson came to Hood River in 2004 to be closer to family and has settled in well since then.
Clyde and son-in-law, Jim, used to go out to lunch at Wilson Park (no relation) during the week, and he fell in love with the spot.
His children commissioned the bench, and he decided to donate the plants.
"He remembered the park and wanted to provide Hood River a thank you for being such a great place for us," said his daughter, Jane Nichols.
Wilson worked for NASA and its predecessor the NACA following World War II, and the inscription on the bench read "He's helped kids of all ages follow their dreams to fly."
Nichols said Wilson remains grateful for all that Hood River has given to him in his later years.
"He wanted to do something to show his appreciation for Hood River," she said.
Nichols said she estimates that "moving to Hood River has added five years on to his life, and counting."
After Babitz read the dedication on Nov. 9 and proclaimed the Wilson park "rest stop" now open, Wilson was escorted to the bench by grandson Eric, great-granddaughter Zoe, and Nichols.
While sitting on the freshly dedicated bench he shared a story about when he recently called the Social Security office and the young woman who answered the phone and asked what he had done for a living.
He proudly informed her that he had been "an aircraft mechanic in the world's largest wind tunnel."
After a pause, she asked him, "What's a wind tunnel?"
"That will really pop your ego," Wilson chuckled.
Bundled up against the chill, Wilson thanked his children and all of the assembled friends and family who came to see the bench and flowers dedicated.
"This could be my last breath," he told the assembled crowd. "And I would be happy."