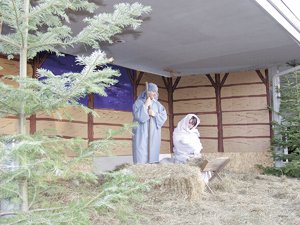 The holidays are always a busy time of year. Some people are either buying presents and hosting parties or decorating houses with lights and deciding whether to get a real or fake tree.
Sometimes there can be too much planning and little time to actually reminiscence and enjoy the time.
This Christmas season, Hood River Church of the Nazarene is hosting its annual drive-through Nativity that features five different scenes re-telling the story of thebirth of Christ.
The scene will be presented this year Nov. 30 to Dec. 2 from 6-8 p.m. The event is free, and refreshments are served.
Nazarene Church is located at 22nd and Belmont streets.
Pastors Joel and Mindy Alsworth have co-pastored together for three and a half years. Mindy sees this as a great opportunity.
"As a church we have the privilege to share the story of Christ's birth and we see it as something vital to proclaim to the community," she said. "Our church really jumps in and it's all hands on deck; there really isn't anyone that doesn't get involved. Each year we consistently have people from the community and the other churches step in to help us out and fill all the spots."
There will be live animals included to add some authenticity, according to Alsworth.
"I think this year we will have either an alpaca or a llama; maybe even both. These have usually been provided in recent years by Margo Goodman and Becky Iremonger. We're very thankful for their help and that they let us use their animals," Alsworth commented.
The Nativity scene has become somewhat of a Hood River tradition since it started 14 years ago.
"People start off their Christmas season with it. Each year, we count how many cars come through, not necessarily all the people. But most cars are full with families or kids coming to see it. Last year we had a total of 220 cars come through." she added.
In 1998, Stacey Methvin was asked to play the part of Virgin Mary.
"Becky Beals just came up to my husband and me and asked," Methvin said. "I think it was because I had long brown hair and I could fit the part. So it was kind of like 'Stacey do you want to be part of the Marys?'"
While reminiscing about what her most memorable experience was, Methvin said, "I remember how you had to hold a blank face, which is part of it because it's a still life. There were live animals there and they were very close to us, with goats chewing on us and such. The funniest part was when the goats decided to let nature take its course with the cars were coming through and we had to hold a blank face but we were really gagging on the odor."
After doing the scene for a while, they made plans for the freezing Hood River weather: "On any given evening we run two sets and trade out characters so they don't get too cold," Alsworth said. Methvin added, "The weather was cold but by the time you had your gear on and got over the nervousness of being in it, it wasn't so bad."
Some had a different experience though. "It was cold, very cold," said Andy Taylor, who participated as a wise man in high school in the early 2000s. "We had attended morning services with the Nazarene church and we were actually neighbors with the Beals. So we knew them through that connection, decided to do it as a family and it was really fun."
Overall, Methvin believes that this is an event to be seen.
"When you pull a group like that together it can really bring about a great community effort and a community function, it's an awesome thing," she said. "It's interdenominational, so you're pulling people from all the different churches and it's a weekend long thing, usually two to three nights. It's a great community experience and it causes people to remember the true reason of Christmas as opposed to all the commercialism."
Taylor adds, "I think it's going to be around for a while because it's a fun event that people can look forward to every year."