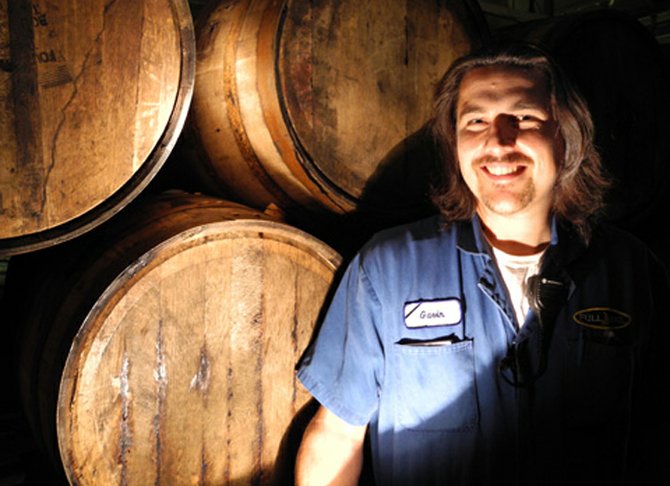 Solera presents new ale, film 'Bounty' on Dec. 1
"Her Majesty's Ship" embarks in Parkdale Saturday.
This ship is not a floating vessel but a new ale from Solera Brewery, made in the English mild style. It's a low-alcohol ale yet darker than its British inspiration, according to brewmaster Jason Kahler.
"Her Majesty's Ship" debuts at 5 p.m. and will be followed by a showing of the 1935 "Mutiny on the Bounty" starring Clark Gable and Charles Laughton.
Combining the mild ale release and the movie celebrates the brewery's past life, Kahler said.
Before it was a brewery, the 1936 building was a movie theater.
Green Drinks meets Dec. 4 at Volcanic Bottle Shoppe
Gorge Green Drinks concludes the 2012 year on Dec. 4 from 6-7:30 p.m. at Volcanic Bottle Shoppe, 1410 12th St.
Solera Brewery of Parkdale will be providing samples of its seasonal ales and Ovino Market will be sampling its hard cider.
The event is free and open to the public. $5 Donation gladly accepted. Plus, spend $20 and get entered to win prizes.
Double Mountain hosts Avalanche Dogs benefit Dec. 6
Double Mountain Brewery hosts the 2012-13 winter fundraiser for the Mt. Hood Meadows Avalanche Dog program on Dec. 6, starting at 6 p.m.
The Shedshakers headline the event.
Participants may enter a drawing for a ski pass for Meadows that can be used this season or next.
Meanwhile, Double Mountain's Ferocious Five bourbon barrel brown ale (10.9 percent alcohol) is for sale, $10 per bottle; just 60 cases were packaged.
Full Sail releases Brewer's Share 'Darkness' ale
Full Sail will release a new beer in its Brewer's Share Experimental lineup — "Lord of Darkness," by brewer Gavin Lord, celebrates that in darkness you can find light.
Full Sail has scheduled two "Meet the Brewer and the Beer" events to showcase this new beer, both from 5-6:30 p.m.
The first event will be at Full Sail at Riverplace in Portland, Tuesday, Dec. 4.
The second is at the Full Sail Tasting Room and Pub in Hood River, on Thursday, Dec. 6.
Proceeds from the sale of Lord of Darkness will go to the nonprofit Groundwork Portland.
Lord's beer (7.0 percent ABV 70 IBU) is a Cascadian Dark Ale brewed with Midnight wheat, flaked oats, crystal malts and 2-row pale, which he said "pours a devilishly dark ruby and wears a lacy white crown," and carries notes of blueberry and lemon, spice and of pine.
n
The Brewer's Share series is a lineup of small-batch draft beers where each Full Sailor takes a turn hand-crafting their own single-batch recipe and a portion of the proceeds benefit a local charity of their choosing.
Brewer's Share beers will only be available on tap at Full Sail's Hood River and Portland tasting rooms.
Lord has chosen to support the Groundwork Portland so every keg of Gavin's beer benefits this organization.
Groundwork Portland is the primary nonprofit in the Portland metro area focused on brownfields redevelopment and conversion of such land into greenspace, parks, community gardens, and multi-purpose sites.
The next Brewer's Share Experimental will be a collaboration beer brewed by Leo Torres, package technician, and Eduardo Bello, maintenance supervisor, and is expected in February.
n
Page A4 — Gov. John Kitzhaber has proclaimed December as "Drunk and Drugged Driving Awareness Month."
Safety advocates are urging travelers to make smart decisions whether on foot, in a car, or on a bike or motorcycle: plan ahead for safety, and watch out for one another.