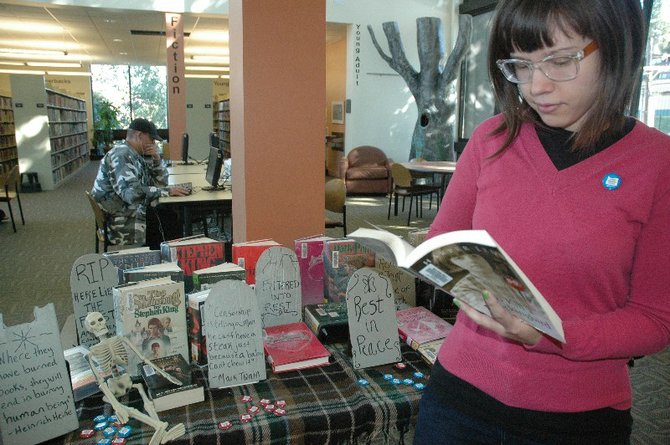 "To Kill a Mockingbird," "Brave New World," "The Great Gatsby," "The Catcher in the Rye," "The Grapes of Wrath," "Ulysses," "Lord of the Flies," "Of Mice and Men" — What do all those books have in common?
That they're all classics of American literature? That the world would be poorer if they didn't exist? That your own education would have been less if you hadn't been required to read at least some of them in school?
Yes, all that.
What do they have in common with "The Hunger Games," by Suzanne Collins and the entire Harry Potter series by J. K. Rowling?
They are all, including "The Hunger Games" this past year, among the most frequently challenged or banned books in the United States.
And a week was set aside to celebrate that — or rather, to celebrate the fact that those books and many others have survived all the challenges and the bans to continue to enrich our lives and culture.
Sept. 30 through Oct. 6 is the 30th annual Banned Books Week sponsored by American Library Association.
Banned Books Week is the national book community's annual celebration of the freedom to read. Hundreds of libraries and bookstores around the country draw attention to the problem of censorship by mounting displays of challenged books and hosting a variety of events.
Our own Hood River Library is, of course, no exception, and a number of displays are planned for the week in the various branches.
More than 11,300 books have been challenged since 1982. According to the American Library Association, there were 326 challenges reported to the Office of Intellectual Freedom in 2011, and many more go unreported.
Among the reasons most often given for a challenge are offensive language, sexual explicitness, racism, religious viewpoint, anti-family attitudes and occult/satanic influences.
The books featured during Banned Books Week have all been targeted with removal or restrictions in libraries and schools. While books have been and continue to be banned, part of the Banned Books Week celebration is the fact that, in a majority of cases, the books have remained available. This happens only thanks to the efforts of librarians, teachers, students, and community members who stand up and speak out for the freedom to read.
Finally, one more thing to celebrate: In our modern age of instant worldwide communication, there is an "up" side to the banning of books. The ironic and wonderful thing that those who challenge and attempt to ban books don't seem to realize is that banning books rarely hurts them much at all nowadays. It often inspires even more interest in the books and sometimes increases sales, as well.
One way or another, the books always win.
This Month's Wish List
The Friends of the Library are hoping community members will contribute by purchasing one or more books from this list for the library collection (available for purchase at Waucoma Bookstore):
NONFICTION
"Appetite for Life: The Thumbs-Up, No-Yucks guide to Getting Your Kid to be a Great Eater," by Stacey Antine
"The Ultimate Super Bowl Book," by Bob McGinn
"The Great Railroad Revolution," by Christian Wolmar
FICTION
"Bride of New France," by Suzanne DesRochers
"Out of It," by Selma Dabbagh
"Memoirs of an Imaginary Friend," by Matthew Dicks
YOUNG ADULT
"Crazy," by Amy Reed
"Daredevil, Volume 1," by Mark Waid
"Throne of Glass," by Sarah Maas
CHILDREN'S BOOKS
"Smile," by Raina Telgemeier
"Pete the Cat and His Four Groovy Buttons," by Eric Litwin
"Flyte," by Angie Sage