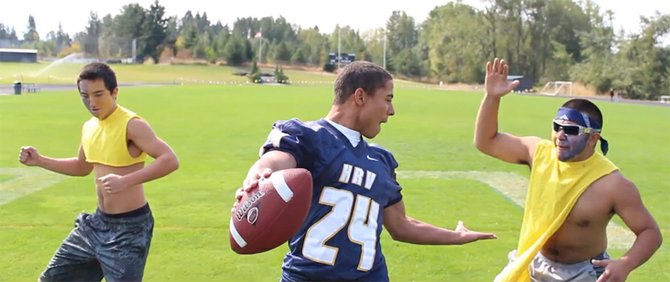 "Blue and yellow, blue and yellow
… you know what it is.
Blue jerseys with yellow paint
Some schools are scared of you,
but Hood River ain't
Soon as you hit the ball
you're out at first base
When Hood River's up to bat
we make the earth shake
Yeah, we birds of prey
and we be soarin'"
It's not the Eagles' new motto or fight song, but this stick-in-your-head tune has created quite a buzz since it aired last week at Hood River Valley High School's homecoming pep rally.
Seniors Eric Nance and Brendan Kerr worked overtime to create the 3½-minute music video, based on a popular hop-hop song titled "Black and Yellow," by Wiz Khafila. The video, filmed and edited by Kerr and written and performed by Nance, was filmed at locations throughout Hood River and features cameos from students, athletes and school staff.
"We wanted to do something to help generate school spirit," said Kerr. "A couple years ago Eric and I did a similar video called 'I Love My Eagles.' As seniors, we wanted to do something bigger and better."
With the help of fellow students in the school's multimedia class, the two wrote, recorded, edited and produced the video over the last couple of months.
"We used a DSLR camera this time, so the quality and colors came out a lot better," Kerr said.
"We recorded the audio at a studio our friend Luis Aguilera has at his house, which was a big improvement," said Nance. "We had a little time in class to work on it, but we definitely put a lot more into the project than just classtime."
As seniors and four-year students in Shawn Meyle's multimedia class, the two have creative freedom this year to work on projects of their choosing. They said they have in mind a senior class video for the end of the year and will probably do another canned food drive video later this year.
"They went above and beyond the normal call of duty for this video," Meyle said. "There is nothing like talented students who are motivated."
View the videos:

Watch "Blue and Yellow" at: Bit.ly/QKXQxw
Watch the 2010 "I Love My Eagles" at: bit.ly/9fjhTg.