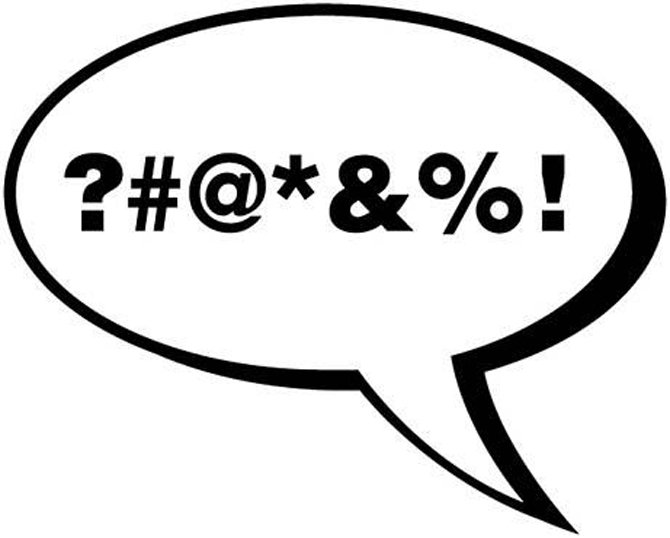 "Strong language from weak minds..." — taken from Facebook
I remember being a young lad at my grandmother's house in Wilmington, Calif., in the late 1970s. One day in the summer, before my mother came to pick me up, I made the conscious decision to try out this new vocabulary that I had overheard at my elementary school (as my uncles were often cognizant of the language that they used around me and my sisters — my mother only had to warn them once).
Unfortunately, my time was almost up before it was time for me to go. How was I going to fit this gem into the conversation? I needed context and I needed it quick! My uncle, not knowing my designs at greatness playfully teased me and I instantly saw my opening! "Shut up, you (male offspring of a female canine)!'"
Immediately, this newborn sense of pride and power emanated from me. I had just used "adult" language! "Oh, man!" my uncle said. "You better not let your mom hear you say..." The rest of his sentence was cut short from my mother's — "Wha...? What did you just say?!" I didn't realize that she was just around the corner and had heard our entire conversation.
Needless to say, I was punished, by a standard that was, shall we say, still acceptable by 49 of the 50 states in 1978 (Rhode Island, I believe, being far behind the paddling curve at that time). I swore to myself that I would never, ever use such language again except in the most extreme cases (e.g., being attacked by door-to-door encyclopedia zombie salesmen, winning the lottery). I've pretty much kept true to myself almost 35 years later.
n
After work on Tuesday, Sept. 4, I made the decision to take Madelynn, my oldest daughter, with me to fish a local river here in our beautiful Columbia Gorge, as the day before I caught a limit of chinook salmon and thought that it would be a great chance for her to hook one of these large fish for our dinner; several dinners actually. We fished for approximately two hours with no luck other than the innate ability to attract several wasps to our location, to which my daughter expressed her severest displeasure decibel levels currently only appreciated by dogs, bats, and Justin Beiber fans.
During the last 30 minutes or so of our trip, a truck drove near to where we had parked. As soon as the occupants disembarked, language, of which I was hoping my daughter had never heard before, came out of a woman's mouth that would have made Shanghaied sailors blush. There was also an unhappy screaming young girl who was still in the vehicle and an adult male with the group as well. The problem, beyond the obvious one of my 10-year-old daughter being with me, was that her anger and colorful vocabulary was being directed at the 11- to 13-year-old boy who was with her. Terms like "fire-trucking," "Shiitake" (as in mushrooms), "stupid," "dumb," as well as naming of a certain deity and the full name of his son (first and last name, split only by "fire-trucking") were also taken into use, although all of the letters that I used in examples may or may not have been used by neither the adult woman nor the male (though I hesitate to call either of them adults).
n
With a feeling of dread and before I could even say anything to her, my daughter looked at me with a sad look and said, "Poor kid. I feel really sorry for him. Why do his parents talk to him like that?" I could only respond at the moment by telling her, "You know, sometimes (what I'm assuming were) parents don't think and say the dumbest things to their kids. Some kids go home to that every day." I could tell she was thinking about this while the poor kid was walking near the edge of the water trying to enjoy what little time he had there outdoors.
I poked my head around the corner of where we were fishing to look at these "adults," and when the man saw me he quietly got the woman's attention. They both lowered their voices to a more acceptable decibel level, although the content of their conversation didn't change too much between them and the young boy who was with them (I'm cursed with teacher-hearing). By this time, the young girl who was in the truck had quieted down herself and soon after they all got into the vehicle to leave.
Later, I was still there with my daughter who was trying to understand why or how an adult could talk to a child, any child, in such a manner? Heck, I was still trying to understand it myself. Before she got too deep in thought I asked her, "Hey, Sweetie, do you know why people cuss?"
She shook her head "no."
"I think it's because they feel the need to get someone's attention and they think that by saying these bad words it'll get another person to listen to them right away."
I continued by talking about how I hear inappropriate language where I work on a daily basis — and people are often taken to task for it. She said that she also knew that there were students who tried to use these words because they thought that they sounded "more adult" and I thought back to that day at my grandmother's house. Personally, I now think that by doing this, adults sound more "juvenile."
I suppose my request in all of this is to ask you, as readers, to be aware of what you say to your children and to be aware of how you say it. Don't get me wrong; I can use language that would curl your toes and make rabbits vomit, but why? Think about if those adults talk to him like that once a month, once a week, or every day? How does that impact his life? How will he respond to those around him as he gets older?
On my door in the classroom where I teach, amongst other quotes I have the following: "Cursing is the device of a desperate mind with a limited vocabulary." Our children are sponges still learning how to speak and respond in a hopefully appropriate manner in social situations both at home, in school, and later, in the workplace. Let's do our very best to give them a safe, loving, positive environment away from language that pushes them too fast into trying to speak like an adult; they're only kids for so long. Let us give them a chance to enjoy it…
n
Fred Trujillo lives in Hood River. He teaches ELL at Hood River Valley High School. He and his wife, Debra, are parents to Madelynn and Kendra, age 5.