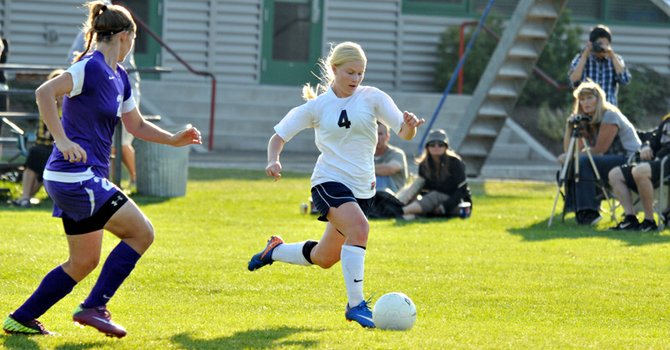 Second-half tenacity paid off for the Hood River Valley varsity girls soccer team Tuesday afternoon. The Eagles, now 3-4-1 overall and 2-0 in league play, hosted the Hermiston Bulldogs in what was expected to be a competitive match between the Columbia River Conference's top two teams. After a fairly even and scoreless first half and opening second half, the Eagles scored two late-game goals and stayed tough on defense to shut-out Hermiston and claim the conference's top position.
"We went into the game expecting it to be tough; we knew we had to fight for every ball," said senior Kristin Lago after the game. "This win really boosts our confidence. I feel like we can take the league if we work for it."
In addition to a commanding performance at midfield, Lago is credited with the first goal of the game, which came from a penalty kick midway through the second half after sophomore midfielder Lily Zega was tackled from behind near the goal.
"I usually look to shoot more to my right on a penalty kick," Lago said. "But the goalie was leaning to that side quite a bit, so I shot left. She gave me a lot of space on that side."
The Hermiston girls didn't hang their heads for long after Lago's goal, and had several near-goals of their own that were stopped by a solid HRV defense, anchored by senior Christina Silva-Perez and goalie Dominique Figueroa. The team's only freshman, defender Kara Kiyokawa, held her own in the backfield as well.

"They played very physical and very aggressive; we had to focus on not letting them get into our heads," said Collete Zack. The sophomore picked up the Eagles' second goal and her third goal of the season with a powerful drive up the center of the field. "She's a big goalie so I knew I had to keep the shot low. When I saw my first shot bounce off her hands, instinct took over and I just followed through."
Coach Kevin Haspela was enthusiastic about the team's win, especially given the expectation that Hermiston was going to be a very difficult opponent.
"Hermiston may have had a few of the best players on the field, but we were the better team yesterday," he said. "The biggest key to our success was the girls' relentless effort. Solid defense and communication allowed us to keep a handle on their very skilled midfielders and forwards. The girls kept their heads in the physical match and stayed focused on winning the ball, shutting down their key players and passing well to generate attack."
The Bulldogs were fresh off a 9-0 win against The Dalles-Wahtonka, which the Eagles play Tuesday in The Dalles. The girls then host Pendleton Thursday. The team's final two league matches of the season are at Hermiston Oct. 25 and at home Oct. 30 against The Dalles-Wahtonka.