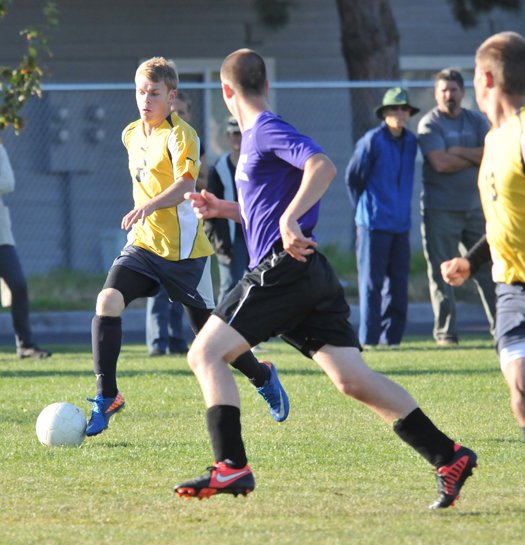 Horizon Christian School maintained its District 5-1A soccer lead with a 3-1 win Monday at home over Southwest Christian of Beaverton.
The Hawks (6-3-1 overall, 5-0-1 league) hold a one-point lead over Life Christian with two matches remaining in the regular season.
Horizon plays at winless Open Door Academy on Thursday and hosts C.S. Lewis Academy (3-7-0, 2-4-0) on Oct. 22.
On Monday, Horizon took a 2-0 halftime lead behind solid midfield play from seniors James Rovianek and Aman Mann, and steady defense from Grant Lynn. The sophomore tandem of Mason Bloomster and Jared Davis gave the Hawks a lead they wouldn't relinquish midway through the first half. Bloomster lifted a crossing pass from the right side toward the left post, where Davis headed it home.
Five minutes later, Mann noticed the Southwest keeper playing aggressively away from the goal and made him pay by lofting a 35-yard bomb into the upper right corner. That goal proved to be the game winner, though Southwest avoided a shutout by scoring in the closing minutes.
Unlike Monday's match, which Horizon controlled from the outset, Horizon and Crosshill Christian played a roller-coaster game last Thursday that wasn't decided until the final minute — that is, if a 5-5 draw is decisive. Crosshill, from Turner south of Salem, used a 4-0 mid-game scoring burst to build a 4-1 lead and then survived a spirited Hawk rally by scoring the game-tying goal in the closing seconds. The tie enabled Horizon to remain atop the league standings.
Horizon used a four-goal spurt of its own to take a 5-4 lead late in the match, but hesitation and miscommunication on the back row led to Crosshill scoring the equalizer. Horizon's offensive output was aided by a Crosshill red card which forced the Eagles to play a player down much of the second half. Mann scored three goals and assisted on another for Horizon.
District 5-1A standings (as of Oct. 15):
Horizon Christian: 5-0-1
Life Christian: 5-1-0
Crosshill Christian: 4-1-2
City Christian: 4-2-0
North Clackamas: 3-2-1
C.S. Lewis Academy: 2-4-0
SW Christian: 2-5-0
Columbia Christian: 1-5-0
Open Door: 0-6-0