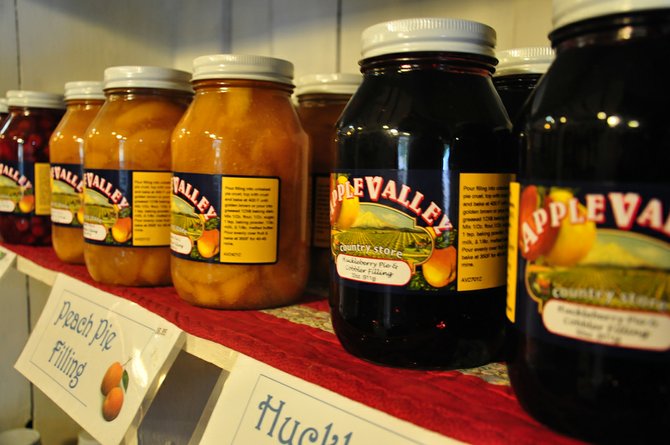 The pear dumpling may be dangerous.
And not just for the obvious reasons of it being a piping-hot blend of ripe Bartlett pear stuffed with cinnamon and sugar and other spices and wrapped in rich buttery pie dough.
It may dangerous because I've spent the last half an hour trying to find out the secret of what the "other" spices in the pear dumpling are, and now some of the Apple Valley Country store staff are chuckling deviously at me after I wondered aloud if the pear dumpling may be my equivalent of Snow White's apple.
Store manager Marcia Spooner assures me the dumpling is perfectly safe (once it's cooled down a bit) and that they have not revealed any of the "tell you but then we have to kill you" secrets.
In the days running up to Harvest Festival the kitchen is a hive of activity as the staff will assemble more than 300 pear dumplings in one day.
They stuff the pear with filling (It's sugar and spice and stuff like that, says Josey Smith as she fills a test dumpling), wrap it in the dough and bake it.
Once it comes out of the oven it's covered in a delicious sauce. The sauce, too, is classified.
"That's a secret," Smith says.
In addition to all the goodies on the walls and the baked goods coming out of the kitchen, on many festival weekends the also offer slow smoked barbecue.
That sets up a dilemma for visitors who gorge themselves on pulled pork and then wander into the store to be confronted with stacks of pie filling, jams and jellies and the smell of fresh-baked pear dumplings.
You can try listening to your inner angel which tells you to split a dumpling with your significant other, or you can wave the surrender flag and just acknowledge that you will likely leave the store with a dumpling or 10, five or so pies (one for you and the rest for "friends") and several jars of something tasty.
Determined to get at least some inside info on what makes everything so delicious, I try a different line of questioning and ask each staff member their favorite pie.
Some have to think for a minute, but Spooner does not even miss a beat before responding with pecan pie, and declaring Apple Valley's to be the best they ever had.
"What makes it so good?" I query.
"We have a secret ingredient," she grins.
Can't say I didn't try.