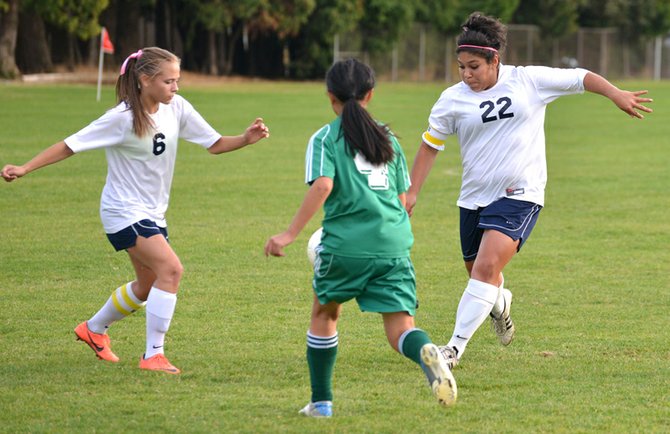 On a five-game winning streak and undefeated in the Columbia River Conference, the Hood River Valley High School varsity girls soccer team is poised to claim the league title at the end of the month.
But the title won't come easily; the girls face Hermiston and The Dalles in their last conference matches of the season, and winning both games will likely be necessary steps in finishing on top; particularly in next week's road game against the Bulldogs.
The Eagles played twice this week — on the road against The Dalles-Wahtonka Tuesday and at home Thursday against Pendleton. Both games were close-fought and ended with Hood River having the slight edge with 1-0 shutouts.
Lucy McLean scored for the Eagles Tuesday in a matchup where strong wind proved to be a significant player in the action. Fighting the wind the first half, Hood River didn't score, but managed to keep TDW scoreless, as well. With the wind at their backs in the second, the girls took advantage of long clears and a forced TDW short game to ride out the 1-0 lead after McLean scored off a rebounded shot taken by Kristin Lago.
The only goal of Thursday's game against Pendleton was set up by a high-speed drive and shot from junior midfielder Korey Cimock. Pendleton's goalie made a diving save to block the shot and knock the ball out of bounds. Cimock took the corner kick and placed the ball perfectly in front of the goal. After a quick round of pingpong in the penalty box, senior defender Christina Silva sent a rocket of a shot into the upper corner of the net.
"I usually push up on corner kicks because you never know what's going to happen," she said after the game. "I think the goal demonstrates that. I was just in the right spot at the right time."
Not long after scoring, Silva suffered a minor injury and was taken out of the game to recover.
"I put my body in front of a shot and got cleated in the stomach," she said. "It knocked the wind out of me for a minute."
For Silva and seven other girls on the team, Thursday's game was the last she'll play at Westside Elementary School. The team's final home game (and senior night) will be Oct. 30 at 6 p.m. at HRVHS.
"It's sad to think about," Silva said. "I started playing here a long time ago with Community Ed. I have a lot of good memories here."